At swearing-in, Cameroon's Biya recognises anglo 'frustrations'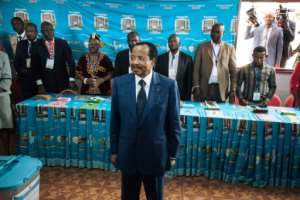 Cameroon's 85-year-old President Paul Biya vowed Tuesday to pursue policies of decentralisation to address "frustrations and aspirations" in English-speaking regions hit by separatist unrest as he was sworn in for a seventh term in office.
It was the first time in 13 months of pro-independence violence that Biya had clearly acknowledged the struggles of those living in anglophone areas where 79 school children were kidnapped by separatist militants on Monday.
But the octogenarian leader firmly ruled out secession for the mainly English-speaking regions which are home to around a fifth of Cameroon's 22 million people, accusing the militants of instigating "terror and desolation."
On the eve of his inauguration, armed militants stormed a school in Bamenda, capital of the Northwest Region, seizing 79 schoolboys and three adults in the worst incident so far of the conflict.
"I have carefully examined the frustrations and aspirations of the great majority of our fellow citizens" in the Northwest and Southwest Regions, Biya said in his speech.
And he pledged a "good number of responses" which would be channelled through "accelerating the decentralisation process which is under way."
But he denounced "the yoke of extremism which has imposed a reign of terror and desolation", urging armed separatists to "lay down their arms and return to the right path."
And he dismissed any prospect of secession, declaring "the future of our compatriots in the Northwest and Southwest lies within the framework of our Republic."
Kamto 'under house arrest'
Shortly afterwards, opposition leader Maurice Kamto who had claimed victory in the October election, addressed scores of supporters on the streets of Yaounde, reiterating his claim to be "the president elect" before police broke up the gathering.
Several activists were detained and Kamto, who came a distant second in the vote with 14 percent, returned to his home which was surrounded by police, an official from his MRC party told AFP.
"He has been placed under house arrest," said Paul-Eric Kingue, who directed his election campaign.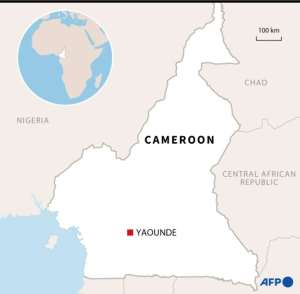 Map of Cameroon locating English-speaking regions and their capitals, Bamenda and Buea.. By Valentina BRESCHI (AFP)
Biya, who has ruled the country for 35 years, was declared victor in the October 7 vote with 71 percent of the ballot.
But the elections were marked by low turnout, violence and allegations of fraud.
Eighty percent of Cameroon's population are French speakers while the rest are anglophones, who are concentrated in the country's restive west.
In 2016, resentment at perceived discrimination in education, the judiciary and the economy fanned demands for autonomy in the Northwest and neighbouring Southwest Region.
But Biya refused any concessions and a year later, radicals declared an independent state -- the "Republic of Ambazonia" -- soon after taking up arms.
Separatists have since attacked troops and police, boycotted and torched schools and attacked other state symbols, prompting a brutal official crackdown.
At least 400 civilians and 175 police and soldiers have been killed this year, according to an NGO toll. More than 300,000 other have fled the violence, some crossing into neighbouring Nigeria.
First mass kidnapping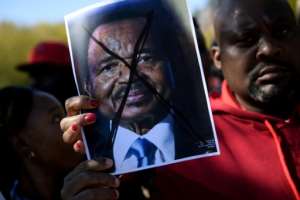 Cameroon's opposition and its supporters have been pushing for President Paul Biya to step down after ruling the country for 35 years. By Brendan Smialowski (AFP/File)
Biya made no reference in his speech to Monday's abduction.
In a six-minute video, 11 boys who said they were from the Presbyterian Secondary School of Nkwen, said they had been taken by the "Amba Boys" -- the term for anglophone separatists.
A source close to the school confirmed the boys were enrolled there.
As the security forces stepped up the hunt for the missing boys, the Northwest Region's governor suspended all inter-departmental road traffic in the area until further notice.
"My sister's son was kidnapped from the PSS. I'm really worried about his safety. His mother has been distraught since she heard about it," said the aunt of one of the missing boys, who did not give her name.
Although mass kidnappings have taken place in neighbouring Nigeria, this is the first such incident in Cameroon.
Deterioration since the vote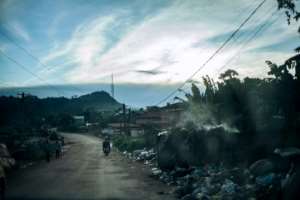 Since Paul Biya's reelection, the situation has deteriorated rapidly in Cameroon's crisis-hit anglophone regions. By ALEXIS HUGUET (AFP/File)
For months, armed attacks have taken place almost daily in the crisis-hit regions, with separatists boycotting schools on grounds that the French system discriminates against anglophone pupils.
Since Biya's reelection, the situation in the anglophone areas has deteriorated rapidly alongside the political climate, with dozens of opposition supporters arrested and journalists detained.
On October 30, an American missionary was shot dead in his car in Bambui, a town near Bamenda, capital of the North West region.