Young Female Entrepreneur Wins Prestigious Award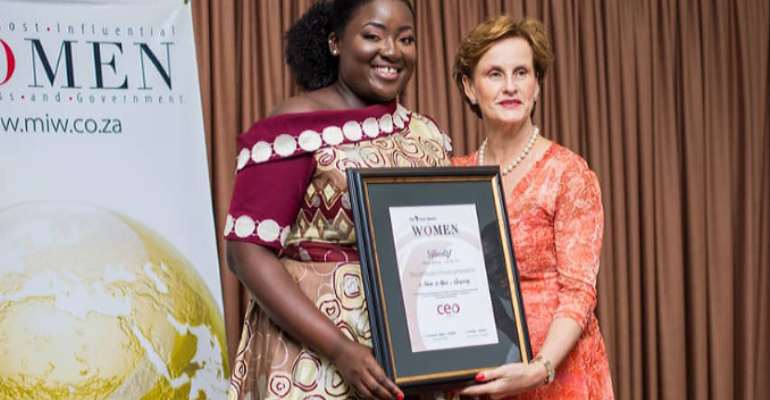 An astute young entrepreneur and a professional Civil Engineer, Nana Afua Sarpong has won the prestigious Pan African Award for the most influential Women in the Manufacturing & Engineering category for the year 2018.
The esteemed international award was presented last weekend at the Fiesta Royale Hotel in Accra after an extensive multi-level judging process, recognizing outstanding leadership and notable accomplishments in the category.
The glamorous event was organised by CEO Global, an international communications company with its headquarters in South Africa. The company which entered its eighteenth year of serving as a platform for the celebration of excellence and transformation in organisations has recognized other women in the past including Dr. Edith Dankwa, CEO of Business & Financial Times, Zimbabwean multi-award winning musician and actress, Selmor Mukudzi, Prof. Hellicy Ngambi, the first female to be appointed as Vice Chancellor in Zambia, Prof. Glender Gray from South Africa amongst others.
Chief Executive of CEO Global, Annelize Wepener noted that the company continues to empower leaders across Africa and beyond. "Women are making a huge impact on the African continent and will be key in its future success" Annelize stated.
Excited Ing. Nana Afua Sarpong who received a certificate of special recognition highlighting her focus in the manufacturing and engineering industry stated "I am honoured to have won this highly prestigious award." She said "After enduring many challenges in running the manufacturing business setting up my own business, it is truly an honour to be recognised and rewarded for my hard work".
The young hardworking engineer underscored that "There is no doubt that being a businesswoman does pose significant challenges" and acknowledged the importance of celebrating the work of women. She stressed that "I am encouraged by the award and passionate about helping to close the gender gap". Ing. Nana Afua Sarpong thanked her team and colleagues for their support in achieving this milestone.
Ing. Sarpong who is a member of the Executive Women Network is the Founder and Managing Director of KNAS Developments, a fast growing Engineering and Construction Company in Ghana and the Director of Operations of Belshaw Company, a detergent manufacturing company. She owns Afua Hwee, a procurement outsourcing firm and also a part-owner of PM Events, an event organizing company.
Source: News Today