Could the President and Ghanaians Learn a Lesson from this TownCrier's Message?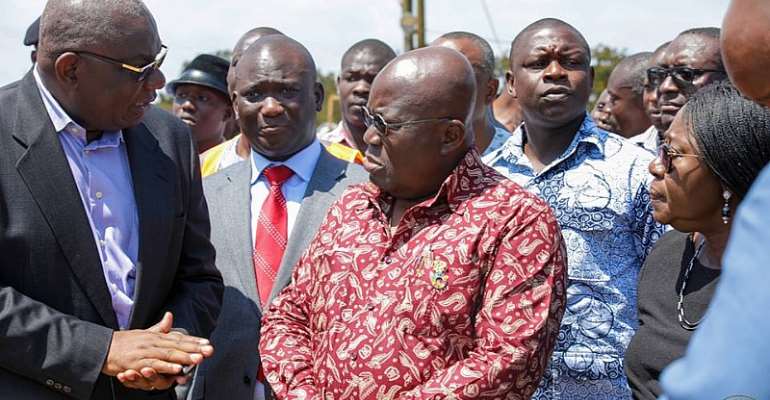 This publication is about me, about His Excellency Nana Addo Dankwa Akufo-Addo and about all discerning Ghanaians. The portion about me can be derived from 1 Samuel 15:22. "But Samuel replied: "Does the LORD delight in burnt offerings and sacrifices as much as in obeying the LORD? To obey is better than sacrifice, and to heed is better than the fat of rams".
God has a way of answering our prayers. However, some of the answers may come in a form that one can hardly realise. In my case, how often had I not intuitively been urged to cease writing articles to rather write my memoire that will have lasting imprint in the minds of many people and posterity? How many times had I not informed the reading public in my publications that I was going to end publishing my views on whatever issues except the Kumawu chieftaincy dispute? But have I conformed to my intuitions by respecting my own expressed intentions? No!
When it came about that Ghanaweb, Modernghana and Breakingnewsgh.com were not publishing my articles submitted to them contrary as I expected, I was moaning. Could it not be that it was a way by God wanting me to cease writing articles to concentrate on something else that could benefit me personally? Was I obeying my intuition which to me was the voice of God according to my previous experiences? No!
Today, God is telling me that to obey is better than sacrifice. To obey Him is better than the articles I am writing which are not yielding the desired results. I am now going to stop, but to obey God. I will not even wait for the two weeks I gave Asantehene Otumfuo Osei Tutu II and Asanteman Council to answer some questions relating to the Kumawu royalty and the families' origin and ancestral lineages. I know for sure that they will not answer the questions. Therefore, I had better publish what must be my two last articles proving the non Overlordship of Asantehene since each Divisional Chief is the owner of the land of his division. Again, I will publish Asantehene Otumfuo Osei Tutu II's own verdict to a case to expose his overflowing lies and his malicious intents to fleece Kumawu hence solidly supporting the illegal enstoolment of Dr Yaw Sarfo as Kumawuhene.
In both instances, I shall submit to my online named publishers the true copy of such documents. Whether they will publish them or not, I can't tell. I have dossiers on the Kumawu chieftaincy case, Asantehene and Asanteman Council's sittings on the case and many others which are bound into documents running into hundreds of pages. I shall only publish a page, two or three in my avowed last two articles before calling it quits to pursue what God wants me to do.
Where this publication concerns the President and the entirety of Ghanaians is found in a true story which myself and other children were told when we were growing up in my town or village by those senior to us. The story went thus, a Whiteman once visited a village on a fact finding mission. He happened to lose his wallet full of cash. He became stranded so he reported his unfortunate misfortune to the village chief.
The chief caused the town crier to go round the village beating his gong to announce the bad luck of the Whiteman and to request whoever has found it or finds it to return it to the Whiteman. This is the message disseminated by the town crier each time he finished beating his gong ("dawuro"). "Konko konko, konko (the sound of the gong when beaten), Kwasi broni yi a 3ka meho yi se, ne sika puduo bi a yera. Wo a wa hunu anaase wo be hunu no, me sere wo fa bre no. 3se wo de ba a wo bekye wo ade a esombo. Na se wo ahunu na wo de beba a ennea na ese wo ara. Konko, konko, konko". Then it is claimed, the Whiteman would add his voice saying, "Ese wo ara, se wo ara".
How hard it is to write in Twi. I hope one alias Supper were around to write it for me. Simply put, the town crier was saying, after beating the gong three times at a time, both at the beginning and the end, "This Whiteman with me says he has lost his wallet containing a huge sum of money. Whoever has found it or does find it should please return it to him. He says whoever finds it and returns it to him will be rewarded handsomely. However, if you find it and will return it to him is up to you" The Whiteman would chip in to say, "It is up to you and up to you".
Ironically, the town crier was asking whoever found it not to return it by his saying of, "ese wo ara" but as the Whiteman did not understand what he meant, he too was repeating same.
The lesson I want the President to learn from this is, Ghanaians had voted overwhelmingly to bring him to power on his promise to fight corruption. Corruption is known to be the number one cause of Ghana's inability to move forward or to develop as a respectable nation worthy of any serious person's recognition. If the President will not fight the corruption by seriously throwing his weight behind Hon Martin Amidu, a man of nationally acclaimed and proven integrity, but will fall for the foot-dragging by the Attorney General, Ms Gloria Akuffo, for Ghanaians to turn around to vote him out of power in 2020, then it is up to him ("ese no ara").
Since Presidents and governments are only elected to manage the affairs of the country, the citizens have the right to hold them accountable but not to allow them to do whatever they like with the nation's resources and money as though everything in the nation is their personal property. Will the President fail to deliver his promise of fighting corruption only to allow the most corrupt person ever born in Ghana, thus, former President Mahama, to come back to power again?
To Ghanaians as a whole except the diehard corrupt ones who stand to gain when former President John Dramani Mahama comes back to power; if you will sit down to be deceived by the known incompetent, corrupt and insulting John Mahama to come back to power again, then it is up to you. Did his younger half-brother Ibrahim Mahama, not use his Senior Mahama's position as the President of Ghana to borrow a huge sum of money, GHC302 million from UT Bank without paying back a pesewa? Was his brother not being awarded most lucrative contracts in Ghana on the basis of whom you know but not on merit? Was Ibrahim Mahama not evading import duties on his imported goods into the country by issuing dud checks for two solid years.
If in the face of all the corruptions perpetrated and perpetuated by former President Mahama and his brother, wife and cronies, Ghanaians will be stupid to vote to re-elect him in 2020, then "ese mo ara, se mo ara"
Has former President Mahama in his campaign to be elected the flag bearer for NDC to contest 2020 presidential election not said that he will cancel the Free SHS education? Has he not vowed to cancel the teachers and nursing training allowances? Has he not said he will resurrect the galamsey? Does the galamsey not destroy our fertile farmlands, water bodies, forests and pollute the air we breathe? Is the galamsey not being carried out mostly by illegal Chinese, and some Ghanaian indigenes who only get paid peanuts working for their foreign masters?
Until I finish my God directed mission of penning my memoire, I shall not come back to defend or castigate anyone no matter how bad or good things turn out. After publishing the last two articles on Asantehene, I may lose my phone and refuse to listen to Ghana news in whatever shape or form until I have satisfactorily done what I feel God has purposed for my personal betterment. I have fought more than enough for Ghana and Ghanaians through my articles and little financial support in various ways.
Should myself, His Excellency Nana Addo Dankwa Akufo-Addo and Ghanaians fail to do what amounts to common sense approach and obligatory requirements of us as herein stated, then we must have ourselves to blame but nobody else.
Former President Mahama was using Ghana's money to buy cars for chiefs, and some journalists who were supportive of him in his perpetuation of corruption. However, President Nana Akufo-Addo is using the money to educate Ghanaian children free, to give them the requisite intelligence and wisdom to become men and women of substance in the near future. The money is benefitting every home in Ghana that has a child of Senior High School going age. If you don't like this, tell me what you want. Do you want a person who will come to insult you as having a short memory hence he will not listen to you, but does what he wants with your money as if the wealth of Ghana was bequeathed to him by his ancestors?
Please, President Nana Akufo-Addo, you have the obligation to fight corruption in Ghana both within your government and outside your government, thus in the NDC. When is Hon Martin Amidu going to start prosecuting people? I don't want to see judges postponing cases unnecessarily when he starts cracking the whip on the back of confirmed corrupt officials. Anyone arraigned by him must be convicted within days or weeks. Should the judges be seen to sabotage him, then discerning Ghanaians will vent their venomous anger on them.
The last time I checked, the Ghanaian swindler of the century, Mr Alex Agbesi Woyome, was walking a free man on the streets of Accra. What is going on, Mr President?
Rockson Adofo