US midterms - White House correspondents follow Trump's Twitter trail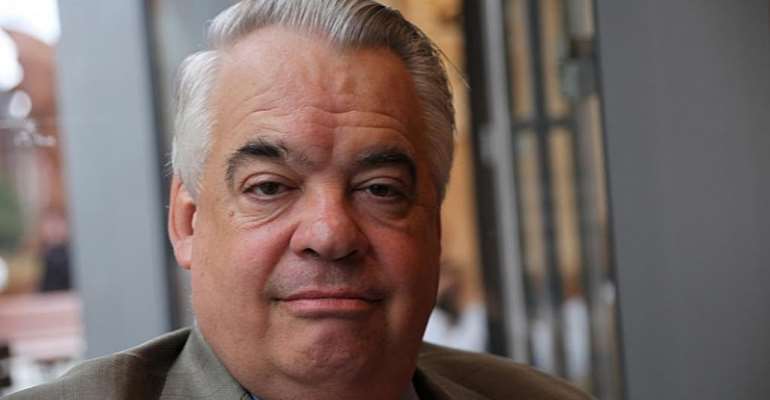 US voters cast their ballots in midterm elections on Tuesday and American journalists will be reporting from the polling stations. But they may face hostility from Donald Trump's supporters after the president's frequent verbal attacks on the media.
One elite group of journalists follows the comings and goings of the president with special interest, the White House correspondents.
Their White House Correspondents Association dates back to 1914, when a group of reporters hooked up to prevent then president Woodrow Wilson from cancelling presidential news conferences.
Today the association has hundreds of members from all over the world, organises the annual Correspondent's Club Dinner, and members, persistently and sometimes desparately, try to interpret the statements of the president or one of his spokespersons.
One of these journalists is John Gizzi, chief political correspondent and White House correspondent for the conservative site NewsMax and NewsMax Television.
He talked to RFI about reporting on the Trump presidency.
RFI: You've been a White House correspondent for over 30 years. How did your professional life change since the change of guard in 2016?
John Gizzi: A lot less down time, a lot more work and a lot more running around from my office to the White House itself. It also meant my getting up earlier because the president tweets sometimes at 3.00 or 4.00 or 5.00am. And it creates news more often than not. And getting a response from others that he draws fire on, interpreting how the tweets affect public opinion. It's like following the markets in a single day. But it has to be done.
RFI: Tweets have suddenly turned into an official way the president issues his policy. The White House used to have official statements through its website, but not through social media.
John Gizzi: This president knows something about instant communication. During a joint press conference with [German] Chancellor [Angela] Merkel, he was asked if he regretted any of the tweets during the campaign. And he said: 'Not many. Because if I didn't tweet, I wouldn't be here.' In many ways, Donald Trump is to Twitter what Franklin Roosevelt was to radio. He discovers a relatively young medium and adapts to it very well. Getting a message out in 140 characters is a particular skill and it resonates with a lot of Americans. So he understands it. Gets it. And he uses it quite well. I cannot argue with him about that.
RFI: You have seen quite a lot of presidents coming and going. How do you feel the atmosphere changes when there is a change of guard in the White House?
John Gizzi: It always changes, in a sense. Presidents have different ways of doing things. For example, under President [Richard] Nixon there was a sense of hostility to the press. But, as one colleague pointed out to me, the press secretary, Ron Ziegler, always found time to answer questions of reporters. It was a very friendly atmosphere with reporters under George W Bush and you had easy access to the four press secretaries to answer questions.
With Obama, less so. The administration liked to control news. In the case of the current administration the president and his communication team like to control not only news but how they disseminate it to reporters and to the public. A case in point is the briefing that you see on television with the most famous podium in the world have been few and far between, and the argument is: the president will answer questions himself when he is with reporters boarding his helicopter, as he did a few days ago, or at his desk for photo opportunities.
RFI: We have seen a lot of statements by Trump that are clearly hostile towards the press. He comes up with this expression of "fake news". How do you deal with that as a White House correspondent if it comes at that level?
John Gizzi: He also called the press 'the enemy of the people' and then specified he meant the liberal press. I think reporters tolerate it to a great degree because they also know that Donald Trump makes news. To put it another way: he uses us, but we use him.
RFI: Does it make sense what he says?
John Gizzi: He speaks in code to people and to a lot of Americans, to the base that turned out for him that made him president in a dramatic upset. He connects. It is a fact that when his remarks are analysed one finds things that don't add up. I give you an example. He once said with the influx of refugees into Germany that the crime rate was going up and particularly violent crimes.
A call to the German embassy and a review of their crimes statistics documents from the Ministry of the Interior showed just the opposite. Crime is at the lowest level in Germany since 1992. I brought this up with the Press Secretary, Sarah Sanders, who simply said: 'I haven't read the report.'
The next day he repeated the claims and doubled down on it, that 'People will tell you that crime is down but it is really up in Germany.' And then Chancellor Merkel got into the act and said that just wasn't so, and again she brought out this document with crime statistics. Multiply this by scores of times through the years and that's what you get.
RFI: How do you define your relationship with the various press secretaries, how do you nurture that relationship?
John Gizzi: Well, in several capacities I have known them. For example, I knew all of George W Bush's four press secretaries in their earlier incarnations, as something else. Two of whom worked in the campaign, a third who's been a professional journalist, a television commentator, and the fourth was a deputy press secretary. And we had a relationship. Under Obama I knew one press secretary before, the others I cultivated, I like to say, by being a gentleman, by being polite, asking questions respectfully but nonetheless not backing down from the pursuit of information.
RFI: It is always a game between the journalist and the press secretary as to how to get what information. Can you give an example of information you managed to get out of a press person of which you are particularly proud and which he/she was not really allowed to tell you?
John Gizzi: There's one and it still generates controversy, as to a lot of questions to the incumbent press secretary, Sarah Sanders. I asked her once about Senator [Rand] Paul of Kentucky. He'd announced that morning that the White House should pull the security clearance of former CIA director John Brennan because he was monetising that, he was using that to be on board and to speak with authority on television talk shows. And all he did was criticise the administration.
And I simply said  'Is the president going to follow up on Senator Paul's suggestion?' To which she replied: 'Not only are they looking seriously into pulling Director Brennan's passes, but the passes of five more.
And it all came from my question. Now she also prepared a piece of paper with the lists of former CIA director Jim Comey, his former deputy Andrew McCaib, and some people said it looked like a staged moment. Well, I can assure you: it was not a staged moment at all.
I was following up what I read in the paper in the morning, and she gave me a lot more which we are now all chewing on. The pursuit of top-secret security badges from nine former administration officials.
RFI: Under Trump it seems to becoming more and more commonplace among the people to mistrust the press, while the influence of social media is growing exponentially. Is the traditional press still relevant for the elections?
John Gizzi: Simply because people are always willing to talk to me. Be they people who work in a pub in Western Pennsylvania, who wanted to talk about that special election for the US Congress, to people at polling places, who will not just blow this reporter off, but come over and share thoughts about the elections.
Yes, there's a lot of people who curse the press. To say they're slanted, fake news is common part of the lexicon. But I still submit to you that, when it comes to getting opinions, there's enough people who are very willing to talk. And they are real people.