NCCE Collaborates With NADMO To Mark International Disaster Day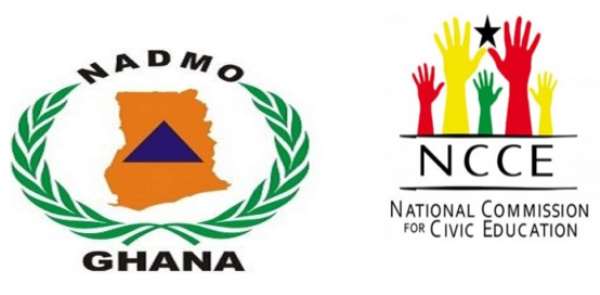 The National Commission for Civic Education (NCCE) and the National Disaster Management Organization(NADMO) have marked this year's International Disaster Day in the Techiman Municipality with a call on the general public to avoid domestic disasters by adhering to strict environmental regulations. The call was made at separate engagements with the general public by the Municipal Directors of NCCE and NADMO, Mr. Jobila M. Zakari and Mr. Eric Asiedu respectively in Techiman.
The Municipal Director of the National Commission for Civic Education, Mr. Jobila M. Zakari said over the year's wild bush and domestic fires have affected people adversely. He said people's investments over so many years are destroyed by such disasters within a short period of time leading to economic hardships on victims and sometimes loss of loved ones. The NCCE Director further advised that the natural environment must be kept intact adding that the European Union has been supporting the Commission in carrying out such public sensitization programs. He therefore admonished the citizens to adhere to good environmental practices adding they are part of the civic duties as per Article 36(6) of the 1992 Constitution to ensure that the environment was safeguarded for prosperity.
On his part, the Municipal Director of the National Disaster Management Organization (NADMO), Mr. Eric Asiedu said the first three quarters of this year recorded ten domestic fire outbreaks in seven communities in the Techiman Municipality. He said most of these fires were due mainly to negligence of people and hence could have been avoid if sound environmental practices were observed. At separate public fora at Tadieso and Anomatoa, Mr. Asiedu said these disasters have caused degrees of injuries and displaced over 234 people. This he said do not create burden to only their families but the public in general. He said such occurrences' called for the general public to be sensitized on safety measures on the use of flammable materials and gases in the home to avoid future disasters. The NADMO Director also advised against illegal electricity connections and the use of substandard electrical appliances. He said unlike natural disaster which cannot be prevented by human beings, everybody must work towards preventing human induced disasters.
The public sensitization forms part of activities to mark this year's International Disaster Day which falls on the 13th October of every year.