Honest Opinion On The State Of The Ghanaian Economy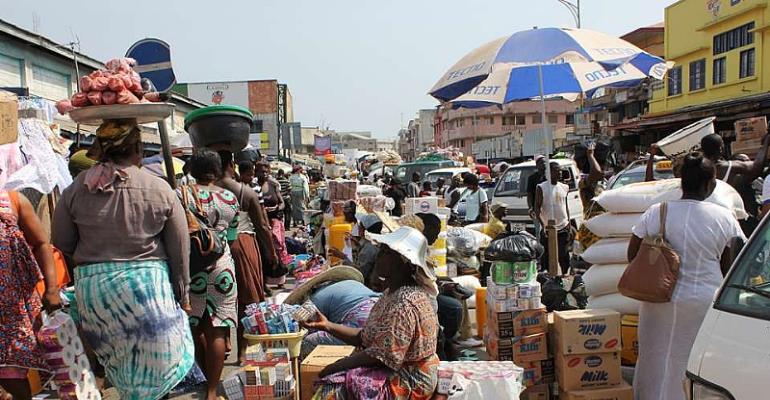 In order to remain faithful to the subject matter lets appreciate a bit of history on which I do not claim mastery over but in the end, I hope to offer some perspective on the state of Ghana, what is militating against her modest gain such as corruption and the way forward. Ghana is a democratic country located on the west coast of Africa and the first country to attain political independence in sub Saharan Africa from British colonial rule with an estimated population of 28 million according to the 2010 population census.
History will remind us that the period after independence marked a massive push from agriculture to industrialization that is a much greater establishment of state-owned enterprises and investments by government. However, the period after the 1970s witnessed a decline in economic activities in Ghana as a result of the failed industrialization project in the region so her economy was shrinking to the extent that negative economic growth was recorded in the 70s and the 80s because consumption was low, investment reduced drastically by 3.5% to a ratio of GDP in 1982, Government spending reduced and it affected output.
The country in 1981 and 1983 recorded triple digit inflation the only time in the history of the nation. Economic reform policies and structural adjustment program had been adopted to revive and stabilize the growth of the economy after all those periods of decline through removal of distortions and private sector participation. And decades after this period, the Ghanaian economy has been on the course of development for instance the Ghanaian economy was ranked the 85th largest economy in the world with a total GDP of US$ 40.7 billion in 2012 and not long-ago Bloomberg described our stock exchange as the best in the world. but a number of challenges has harassed growth and inequalities.
In recent times dating back from the period of 2016, taxes have reduced including inflation and interest rate and economic growth increasing from 3.6% from December 2016 to 7.9% this year (state of the Ghanaian economy 2018). International reserves increased and interest rate has not been stable however debt to GDP ratio has also increased. Power normalizes and has tailored a revival of industries from a growth rate of -0.5% in 2016 to 17.7% in 2017. It seems like our macroeconomic indicators are lacking hollows and moving towards its destination but why is it not reflecting in the pockets of Ghanaians.
As a matter of fact, the narrative about what was first known to be development has changed. In the 1950s and 1960s, development was equated to a sustained increased in a countries GDP, industrialization and per capital income. Economic planners at this time were only looking at the capacity of economies to generate and sustain an annual increase in its GDP at rates of perhaps 5% to 7% and this can be achieved by altering production by more industries and less agriculture.
Dwelling much on economic indices like per capita income can be misleading because 80% of the population may command insignificant proportion of the economics' cake say 20% and the remaining 20% minority of the people controlling 80% of wealth. "GDP in itself does not allow for the health of our children, the quality of our education or the joy of our play, it does not include the beauty of our poetry or the strength of our marriages, the intelligence of our public debate or the integrity of our public officials. It measures neither our courage, nor our devotion to our country. It measures everything, in short, except that which make life worthwhile" (Senator Kennedy,1968). Based on this I submit to us that we should not be deceived by the romantic statistics on paper which do not reflect in the wellbeing of the people. Whilst economic growth is essential for development, it is a highly imperfect measure.
So, in 1970, attention was shifted to poverty reduction, inequality and unemployment. Today, attention is rather given to the quality of life of people not just by enhancing higher incomes, but also education, nutrition, clean environment, equality of opportunity, freedom and rich cultural life. These are not unattainable if politicization of the economy is not given air to breath, if we ensure hygiene in the politics today Ghana will move on, the extreme cost of living, unnecessary death from preventable diseases such as malaria, cholera and diarrhea, infant and maternal mortality will all decrease, our informal sectors will get formalized, there will be no supply shocks to our industries by uninterrupted power, our transportation system will be efficient, there will be more access to computer and internet facilities, good health and longer living then more leisure and recreational activities and all these will reduce the country's debt stock.
CORRUPTION
In my honest opinion, the major cancer of our economy today is the inability to curb the incidence of corruption and its related issues. We have a judiciary that is not independent in the discharge of its function and that there is too much participation, check and balance in the affairs of the judiciary. At first, I thought we just have thieves in our public institutions then a friend said they aren't thieves they are looters then recently I realized they aren't just looters but looters on a grand scale. In 1975, Brazil was a backward economy but young men and women of Brazil and their independent anti-corruption institutions decided to fight the corruption cancer to restore that which they have lost years back.
Two former presidents - close allies Dilma Rousseff and Luiz Inacio Lula da Silva - have found themselves under investigation since 2014 and found guilty in 2017 and removed from office. Today Brazil is in the jet age, they may not have eliminated completely corruption but there isn't room for impunity. In south Korea their female President Park Geun-hye is now in exile fidgeting with the law after the court's decision to remove her from office. Impunity must be dealt with in Ghana, it looks like if you do not want to be prosecuted then the right choice is to join Ghanaian politics. In 2017, we were ranked the 81 least corrupt country among 175 by transparency international and am certain that a new release on corruption will be brutal per the numerous corruption scandals we have had in recent time. When a thief is caught another party says we know he is a thief but he is our thief leave him alone (PLO Lumumba) and once justice gets delayed it eventually gets denied and I wonder what kind of world this is. At first it made no sense for us to be called shit hole but now it does.
Ghana has seen a lot of comedians like professor PLO Lumumba will put it whose appetite for public goods is highly insatiable. we need serious men and women with integrity to serve not people who want to pay back the other party once it gains power. All the good things we travel to see including efficient transportation systems in other places with our children was not built by an army of angels released from above it was done by the people themselves but unfortunately, we here in this part of the world have turned into an army of devils.
May our mothers and female institutions who are our first educators celebrate not with the men when they come home with cars and valuables that they can't explain for we know that our mothers are teachers of integrity and have instincts different from that of men and that they have a major role as front line fighters in the battle against corruption. At age 33 in 323 BC a Macedonian dynast Alexander the great before he died instructed one of his generals that the greatest physicians should carry him and his arms spread on the casket then his gold and diamonds thrown along on the path for everyone to know that empty he came and empty he shall go and that when death comes, not even the greatest physician can save you. Similarly, public officials should note that non-is gratifying him/her self in with public wealth after death such things are not eternity.
EDUCATION AND HEALTH
Education and health are very instrumental in determining the growth of nations as captured in the united nations development project as the new form of development. Performance on Education and health has seen some improvements over the years because as at 2010 we have had 7 public universities today 9 public universities excluding technical universities, 10 polytechnics, 38 colleges of education, and 55 accredited private tertiary education institutions this is a great improvement relative to the 1990s where we had only 4 public tertiary institutions and government expenditure on education though lower than Kenya and Senegal but higher than Uganda Zambia (world bank 2013).
Theses two elements constitute the human capital and driving force of every economy like ours because people get gainful employment on the education that they have attained. In 2014 the world economic forum ranked Ghana 46th out of 148 countries having quality education but I must submit to us that we have to be more serious with our education system. I describe the free senior high school as the biggest social intervention program in history because this will widen the bracket for SHS graduates than before and our society will be free from certain diseases attributed to lack of education such as understanding issues and the essence of conflict resolution, reducing school dropout and teenage pregnancy.
A driver with an SHS education and certificate as compared to one without will drive to some extent responsibly and adhere to road signs hence reducing road accidents. However, the policy I think should be revised and well structured. I have not measured it with the Lorenz curve nor the Gini co-efficient, the composite index number method, factor analysis, quintiles and deciles but it's obvious that the policy will quickly widens inequality since it benefits both the rich and the poor. A social intervention program such as this should bridge the gap between the rich and the poor.
A healthy living is a wealthy nation and Since independence in 1957, the country has pursued a number of health policies and interventions to safeguard the health of its citizens so the government of Kwame Nkrumah introduced a universal tax-funded free healthcare system for all citizens. After two decades of operation, the sustainability of this model was called into question as a result of the stagnation in the economy (Arhin-Tenkorang, 2001). In Kufuor's administration the national health insurance scheme was introduced but had dwindled in performance over the years and today many are relying on traditional form of medicine.
According to the World Health Organization the most common diseases in Ghana include those endemics to sub-Saharan African countries, particularly: cholera, typhoid, pulmonary tuberculosis, anthrax, pertussis, tetanus, chicken pox, yellow fever, measles, infectious hepatitis, trachoma, malaria, and schistosomiasis. Though not as common, other regularly treated diseases include dracunculiasis, dysentery, river blindness or onchocerciasis, several kinds of pneumonia, dehydration, venereal diseases, and poliomyelitis. Government spending in health and education should increase to increase output and I congratulate the government for taking membership renewal of the biometric card online we hope this makes great impact and wish that process God's speed.
CREATION OF NEW REGIONS.
The decision to regionalize some parts of the country is a prudent decision that will not only open the country to investors but will also solve the numerous problems urbanization is posing to the socio-economic development of the country through suburbanization and gentrification because the current urbanization in Ghana has nothing to do with industrialization mean while they are supposed to correlate and also bridge the gap between what I choose to call the core and the periphery so that no part of the country will be left out it is postulated that by 2025, more than 60% of African countries will have its people been urban dwellers and it will be one of the problems that planners and politicians will have to tackle in the 21st century (Ababio, 2016). Regional planners have enough evidence to suggest that the advantages of the delimitation exercise far outweigh its disadvantages and this decision is far from tribal identity. I will have much space to talk about the regionalization exercise but if God grants us life that will be the next subject to be discussed.
SECURITY
"The law enforcement agencies will crack down very hard on all those who would disturb the peace of our nation". These are the words of the president of the republic of Ghana. on the contrary we are witnessing vice. The illegal actions of land guards have lost faith for something worse. We are yet to be convinced that the selective justice by the vice chancellor of KNUST which resulted in chao has not eroded the credibility of the government and the ministry of interior. We are also yet to be convinced that the situation had not encroached on the tenet of rule of law and the principle of fundamental human right of the student populace and the delay in the development that we yean to see. Government should take time to regulate the powers of university authorities and sieve out brutalizers in professorial gowns.
Government should consider all aspects of the economy and give them all priorities and ensure proper targeting of resources in the areas of sport, tourism, security, manufacturing, creative arts, foreign policy, oil matters, corruption, auditing, housing, agriculture, energy, illegal mining, health and education and Ghana will go to higher heights where the eagles soar for generations yet unborn.
Fedelix Agyemang Owusu
[email protected]