Property Destruction One Too Many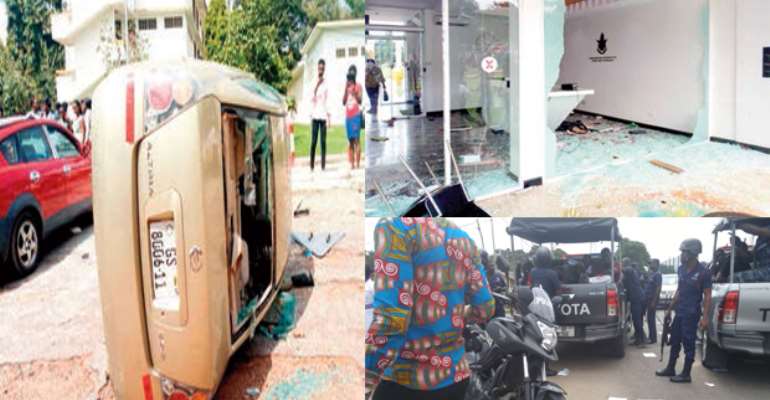 By the time the rampaging Nkwanta Senior High School students in the Volta Region were done with their mission, several items, some belonging to the state were destroyed.
It would appear that the Kwame Nkrumah University of Science and Technology (KNUST) students' manual on the destruction of public property was made available to their juniors at the Nkwanta Senior High School.
In a world powered by social media, the unenviable story of the destruction at KNUST spread around the country like wildfire during the harmmattan; it taught students what to do when they are aggrieved with situations on campus.
The Nkwanta students saw the KNUST destruction and were, of course, fascinated by it. They tried it and it worked because of the volume of destruction it left behind.
The authorities must flex their muscles over the rising incidence of destruction in public schools. It should not be allowed under any circumstance. While students, especially in tertiary institutions, should be given the freedom to exercise their rights so that they can enhance their self esteem after school, this should not be at the expense of safety of public property and even threatening the lives of others.
The KNUST destruction spree and now the Nkwanta one are wakeup scenarios which should push us to wake up to the challenge of addressing the spate of indiscipline. We should count ourselves lucky as a nation for not losing lives during both the KNUST and Nkwanta melees.
In Nkwanta, not even the official divisional command's vehicle was spared the students' fury. They destroyed it as they did other valuables – some belonging to both members of the public and the state's as represented by school bungalows and others.
In respect of KNUST at the time of composing this commentary, the cost of the destruction by the irate students stood at GH¢1.7m. The damaged or even vandalized items must be replaced all at a cost to the taxpayer.
We definitely cannot clap our hands for those responsible for such level of destruction, avoidable and unnecessary as they are. Why students would start destroying items they are enjoying in schools is beyond the ken of all sane persons. Could it be attributable to the momentary loss of commonsense associated with crowd violence?
When students return and freshmen take up residences, they must be warned to shed the destructive proclivity now threatening to become a feature of schools.
As for those captured by CCTV cameras as they perpetrated the destruction, they must be surcharged before being allowed to continue their studies. Their parents should be part of the good conduct bond somewhat.
Until students are held responsible for the items they destroy in schools when they get crazy, they would continue to misbehave the way they did at KNUST and Nkwanta.