Greetings From His Excellency The President Of The Republic Of Ghana Nana Akufo Addo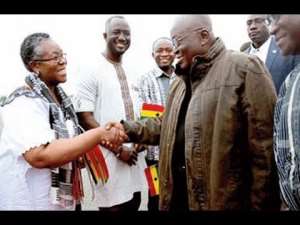 His Excellency the President Nana Akufo Addo touched down God's Grace last night in Berlin and will be leaving later today.
As you can clearly see, His Excellency is walking a tight schedule and as such CAN'T meet the Ghanaian Community, His Excellency is deeply saddened by the trend of events and Apologise profusely for that, as it is, this is a whirlwind visit and protocol bent some rules to make it possible for it to take place considering the precarious situation of Chancellor Angela Merkel.
His Excellency, however, is going to come back to Germany next year and has already made provisions to meet "His Children" the Ghanaian Community.
On behalf of His Excellency the Germany Branch Chairman Rev Alex Acheampong thanks you ALL for Your Understanding.
...Signed...
Nana Boateng
Communications Director Npp Germany Branch.