Muslims End Fasting With Eid-el-Fitr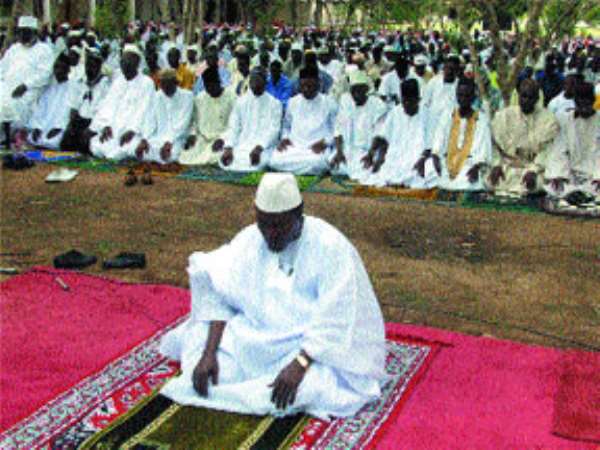 Muslims throughout the country, and elsewhere, are celebrating the end of the month-long period of fasting, as they congregate at designated locations for the mandatory congregational prayers, to climax the end of the Ramadan month.
The National Chief Imam Sheikh Osman Nuhu Sharabutu, leads Muslims at the independence Square, to offer prayers and gratitude to God. He would also deliver the sermon, called Hutba, in Arabic, during which topical issues are sermonized upon, with a view to getting the faithful to correct their errors in the world.
The Vice President, Alhaji Aliu Mahama, is expected to join his fellow Islam faithful in the congregational prayer. Muslim members of the diplomatic corps, accredited to the country, are also expected to pray at the Independence Square.
The Ahlusunna Jamma sect will also be led by its leader, Chief Imam, Sheikh Umar at the Efua Sutherland Children's Park, in Accra as the Ahmadis will also be led by Maulvi Wahab Adam, in prayers.
During the month-long period of fasting Muslims abstained from food, sex, and indulging in morally-unacceptable things like back-biting and many others. Sex was only permitted to married couples after the breaking of the fast, at dusk. Even though the aforementioned points are forbidden in Islam, during the Ramadan month, they are more pronounced.
Muslims, who are unable to fast on health grounds, must feed paupers for the period of the month. Today's celebration is named Eid-el-Fitr, which in Arabic means the festival of fast-breaking, and in Accra, it would be characterized by street carnivals and other forms of merriment. Before the commencement of the celebration, Muslims who have the means, must offer assistance to the needy to, also partake in the festivities. Every adult must prepare a certain quantity of rice or other measurable grain to the needy. A family head will give such alms on behalf of all his dependants. The giver may give money to the equivalent of the quantity of grains to be dished out.