GUTA Shakes Off Xenophobia Tag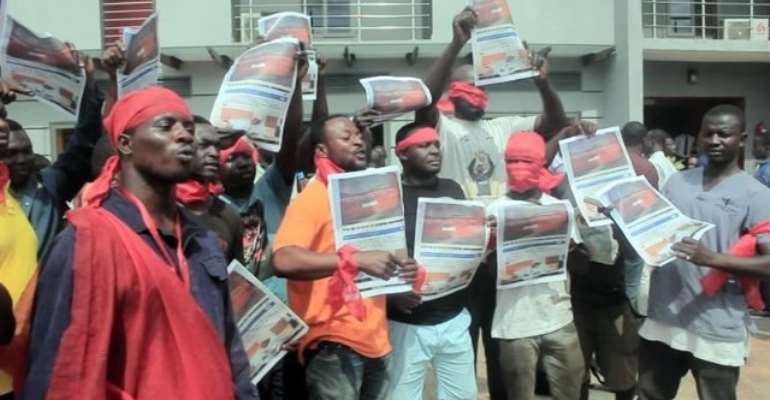 The Ghana Union of Traders Association (GUTA) says it is angered at allegations of xenophobia by the Nigerian Union of Traders Association in Ghana.
GUTA leaders cite a letter by Nigerian traders to their President which sought to suggest that Ghanaians were maltreating them and denying them access to legitimate businesses.
According to GUTA, the Nigerians alleged that the situation has led to the loss of lives in some instances, allegations the Ghanaian traders describe as blatant lies.
Ashanti Regional General Secretary of GUTA, Mohammed Ali, addressed a press conference in Kumasi and described the claims as fabrication and false.
"Our attention has been drawn to a recent demonstration in Abuja by the Nigerian Union of Traders Association in Ghana (NUTAG) led by its President Chukwemeka Nnaji and his vice Ikechuku Obiora alias Kizito on a fabrication of falsehood and distorted facts to dent the good image of Ghana in the eyes of the whole world."
"In their petition to His Excellency President Buhari through his senior special advisor on Diaspora, Abike Dabiri-Erewa, NUTAG presented calculated stories of lies to win the sympathy of the ECOWAS community. In their petition to President Buhari, the Nigeria traders also alleged a woman committed suicide because of harassment by Ghanaians," said Mr Ali.
GUTA says the death of the woman in question which was being investigated by security agencies had nothing to do with trade issues.
"These are blatant lies and twisted facts. The woman in question died of a different cause and the security agencies investigated and it has nothing to do with the activities of GUTA," he said.
He says only people who have failed to comply with the law have had their shops closed.
The law
As per the Ghana Investment Promotion Centre (GIPC) ACT 865 Section 27, foreign nationals residing in Ghana are barred from retail trade which is the sole preserve of Ghanaians.
The Ministry of Trade and Industries in Ghana formed a Compliance Committee to streamline the business operations of foreign nationals in retail trade.
The committee in its operation uncovered certain illegalities some foreigners were perpetrating such as the sale of expired goods and substandard products in their shops.
Some of these foreigners were identified as not paying taxes on the goods and products they bring into the country; others bring their goods through unapproved routes and evade taxes.
Officials of GUTA also revealed that some Nigerian traders in Ghana condone and connive with unscrupulous officials to under-invoice at the various ports of entry of the country, thereby denying the government of Ghana the much-needed revenue to develop and benefit the county as a whole.
The committee comprised of government institutions such as the Immigration Service, Customs, Ghana Revenue Authority, Ghana Investment and Promotion Centre (GIPC), Ghana Standard Authority, Food and Drugs Authority (FDA), The Registrar General, Kumasi Metropolitan Assembly (KMA) and Ghana Union of Traders Association (GUTA).
The compliance committee exercise was not targeted on only Nigerians but rather all foreign nationals engaged in the retail business such as Indians, Lebanese, Chinese, and Egyptians etc.
"One may ask why Nigerians have only decided to cry wolf when there is no wolf. We would like to state categorically that this same directive is being implemented vigorously the Nigerian authorities to foreign nationals in Nigeria," Ashanti regional Chairman for GUTA, Anthony Oppong quizzed.
In Nigeria
In February 2018, President of Nigeria, His Excellency Muhammed Buhari signed an executive order known as ORDER 5, to prevent foreigners from doing jobs Nigerian can do.
There is also a massive task force operating in Nigeria preventing foreigners from engaging in retail trade at the markets and business centres that goes by name ASPANDA SPECIAL TASK FORCE ON FOREIGN TRADE.
There are many foreigners including Nigerians who have complied with the directives of the ministry of trade and industry and are doing their businesses in a congenial and friendly atmosphere with no impediments whatsoever on their way and they can testify to that
According to the leadership of GUTA, those who did not comply have their shops locked up till they satisfy the requirements such a business registration, submitting of tax returns and paying of appropriate taxes, documents to cover importation of goods and payment of duty taxes, and registration with the Ghana Investment Promotion Centre (GIPC).
"Our intentions are not to harass, molest and intimidate any foreigner in Ghana but rather the authorities implement the statutory laws of Ghana without fear or favour.
All we are saying is that Ghana is a sovereign state and the laws in Ghana must be obeyed and adhered to by all and sundry whether the person is a citizen or a foreigner", Mr Oppong explained.
The relationship between Nigeria and Ghana is crucial for the West African Region and trade. It is therefore important a lasting solution is found to address it before the unpleasant happens.
The letter
On October 9, 2018, the National Association of Nigerian traders and the Nigerian Union of Traders Association in Ghana petitioned Office their President over alleged xenophobic attacks in Ghana.
"Because of what is going on we want Mr President to come and salvage the situation save our souls, save the souls of Nigerians in Ghana from xenophobic attacks and from the dismantling of their means of livelihoods"
President of the National Association of Nigerian Traders, Ken Ukaoha, in another meeting with members, said the actions by their Ghanaian counterparts violate ECOWAS protocols.
They also said 400 shops belonging to Nigerians have been locked up.
"One matter, a law that is inconsistent with that of ECOWAS protocols and ECOWAS treaty was pushed in by Ghanaian parliament to the extent that nobody is supposed to do business in Ghana except if you have one million dollars as investment capital
"And we are crying for the whole world to hear that ECOWAS may act before it is too late, there are many more nationals living in Nigeria, we might take steps also to crush integration and that is not in the best interest of ECOWAS", He called on the ECOWAS community to intervene."