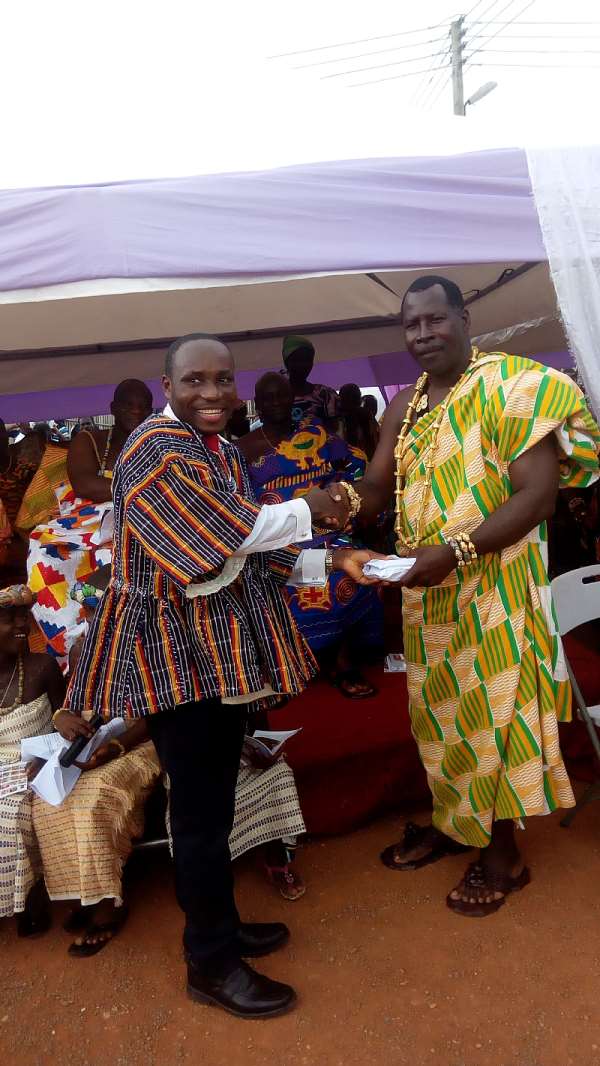 Ellembelle DCE presenting the cash to Awulea Amihere Kpanyinli Educational Scholarship
The District Chief Executive (DCE) for Ellembelle in the Western Region, Mr. Kwasi Bonzo popularly known as Ellembelle David has supported the Paramount Chief of Eastern Nzema Traditional Council's Educational Scholarship with the amount of 10,000 Ghana Cedis.
The DCE made the donation during the climax of 2018 Kundum festival by the Chiefs and people of Eastern Nzema Traditional Area at Atuabo on Sunday, October 28, 2018.
This year's Kundum festival celebration was under the theme, "Improving Education Through Our Culture and Heritage" was marked with activities such as appellation songs, clean-up exercise, street jams carnival, health screening, soccer gala competition, girl-child education, fundraising among others.
The DCE who has taken education of the people of the District as his topmost priority, presented physical cash in the aim to sustain the scholarship program.
The Chief of Ampain and a Member of the Eastern Nzema Traditional Council, Nana Nyamekeh Fofole II received the donation on behalf of Awulea Amihere Kpanyinli III.
The Awulea Amihere Kpanyinli III Educational Scholarship Program is aimed at providing full scholarship to promising and brilliant but needy students from the Eastern Nzema Traditional Council.
According to the Paramountcy, "this year an announcement was made for students who sat for the BECE Examination for the 2018/2019 academic year in the Ellembelle District to apply for the scholarship".
The statement added "Free buses were provided to transport students to Atuabo for the interviews. One hundred and seventy-eight (178) students were interviewed, and twenty two (22) out of the students were awarded with the scholarship.
The scholarship program will also provide an allowance of 160 Ghana Cedis for each beneficiary in every academic year.
During the presentation at the climax of the festival which was attended by Vice President Dr Mahamudu Bawumia and other government officials, the DCE for Ellembelle, Mr. Kwasi Bonzo said the chosen of the theme for the festival is in the right direction.
He stated that the scholarship program will go a long way to help improve the educational standard of the District.
He revealed that the performance of the BECE for the 2018 has been reduced to 46% as compare to previous years which the District was chalking 73%.
The DCE thanked the Paramount Chief for introducing such a laudable program.
"Awulea Amihere Kpanyinli III has given answer to NDC for finding it difficult to name a single Social Intervention programme did it when they were in power.
On his party, the Paramount Chief, Awulea Amihere Kpanyinli III expressed his profound appreciation to the DCE for the kind gesture.
He promised the DCE of utilizing the money to achieve its intended purposes.
He used the occasion to appeal to Tullow oil company to provide classrooms for the Bonzoh Kaku Senior High School (BOKASS) in the District to improve quality education for his people.
Source: Daniel Kaku