Cyber Safety High On Government's Agenda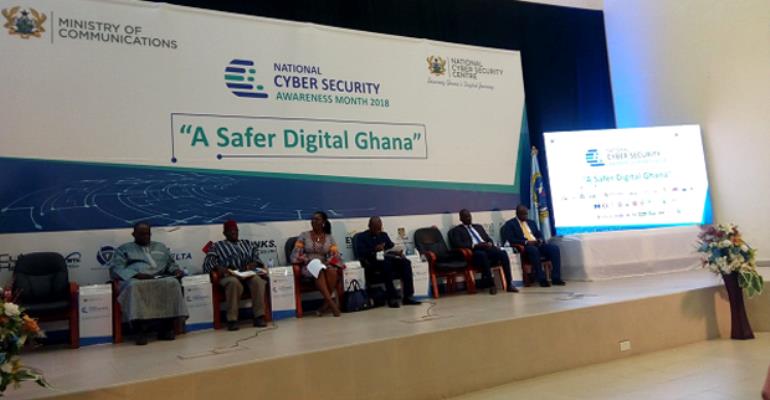 Some former ministers of communications have met in Accra to discuss ways of developing and securing Ghana's cyber ecosystem.
Their meeting formed part of activities climaxing the National Cyber Security Awareness Creation Month organised by the Ministry of Communications in partnership with the National Cyber Security Centre.
The ex-ministers who met at the Kofi Annan International Peacekeeping Training Centre (KAIPTC) on Friday, October 26 were Minority Leader of Parliament, Haruna Iddrisu, Dr. Edward Omane Boamah, Felix Owusu Agyapong, and Ekow Spio-Garbrah.
They shared their individual perspectives on how best to ensure child online protection, fight against cyber fraud, responsible use of social media and curtailing of fake online news, how to secure funding for cyber security, how to address challenges relating to election security in the cyber world with specific references made to Russia's alleged involvement in the 2016 United States presidential election, among others.
Vice President Dr. Mahamudu Bawumia launched the event earlier this month under the theme: 'A Safer Digital Ghana', with the aim of increasing the masses awareness on the risks and effects of cybercrime in Ghana.
70% Children Exposed!
With the panel discussion taking place at a time when the 2017 Ghana Country Report has revealed that about 70 percent of children are exposed to sexual images online, Mr. Iddrisu warned that government and other key stakeholders like parents must take steps to ensure that Ghanaian children are not exposed to the negativities of internet as an instrument for self-development, saying that as a country, "we must take appropriate steps in child online protection."
Communications and cyber security, according to the minority leader, must be seen to be above partisan affair, saying it is in the interest of the survival of the political elites of Ghana that the cyber space be secured.
Commenting on the consequences of the breakdown of the cyber space in Ghana, Mr. Iddrisu added that conscious efforts must be made by government to increase investment in cyber security, urging the Minister of Communications, Ursula Owusu-Ekuful, who moderated the discussions, to take steps in ensuring that state institutions like the Ghana Immigration Service, Ghana Police Service and Ghana National Fire Service, "fill" the existing cyber gaps in the country.
He called on Ghanaians from all walks of life to support Madam Owusu-Ekuful to mainstream information communication technology (ICT) in all aspects of the Ghanaian national life.
Mr. Owusu Agyapong, on his part, called for the involvement of local contents in the development of ICT infrastructures across Ghana.
"We should go into the cyber security issue by ensuring that more and more opportunities are given to our people," Mr. Owusu Agyapong, who was Communication Minister during the erstwhile John Agyekum Kufuor administration, highlighted.
The former Minister of Communications, Dr. Omane Boamah, pointed out the need to localise the needs of Ghanaians and Africans in general in the ICT sector.
Touching on the financing of cyber security and ecosystem in Ghana, the former minister urged the need for investment in research, capacity building and the strengthening of key security agencies in Ghana.
Threat
Dr. Ekwow Spio-Garbrah, also a Minister of Communications in the 4th Republic, sounded a word of caution to government with respect to allowing foreign nations like China and India to construct buildings of key state institutions like the Jubilee House and Ministry of Defence.
He said there are cyber security risks associated with the practice of having foreigners construct such key nation buildings.
Dr. Spio-Garbrah, who is one of the flagbearer aspirants of the opposition National Democratic Congress (NDC), complained that financial institutions in Ghana are the least transparent about cyber crime issues.
Thus, Dr. Omane Boamah cautioned banks to ensure that people's personal data are not compromised.
BY Melvin Tarlue