C.Africa ousted assembly leader vows to wage court fight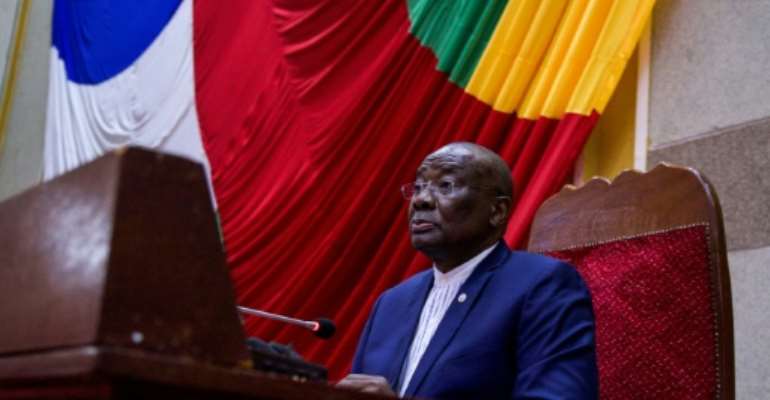 The Central African Republic's ousted assembly leader called for calm as he spoke to supporters on Sunday saying he would legally challenge his sacking which has taken on sectarian overtones.
Speaking in his predominantly Muslim PK5 neighbourhood of Bangui, the economic hub of the capital and often scene of violence, Karim Meckassoua protested the censure vote late Friday that removed him from the office of president of the national assembly.
The Muslim politician called for "calm" and for his ouster not to be turned into a debate over religion, but at the same time noted that 38 out of the 41 deputies who voted against him were Christian, an AFP correspondent at the scene reported.
"The fight continues but it is a judicial fight," Meckassoua declared, saying he would take his case all the way to the constitutional court.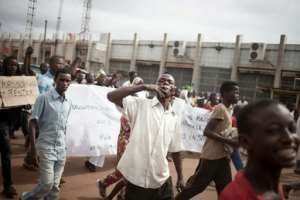 Protesters demonstrate against the removal of Karim Meckassoua as president of the National Assembly. By FLORENT VERGNES (AFP)
In reaction to the move against Meckassoua, the country's mainly Muslim ex-Seleka rebels on Saturday gave government officials in areas under their control an ultimatum to leave within 48 hours.
Abdoulaye Hissene, a leader of the former rebels and of the National Defence and Security Council, which comprises several ex-Seleka armed groups, told AFP the ouster vote was "illegal".
"We think it happened because he's a Muslim," he said.
However, on Sunday, two of the three ex-Seleka armed groups expressed a desire to ease the tensions.
The Bangui government has denied any religious motives in the dismissal of the National Assembly president.
"Those who launched the censure procedure raised management problems. At no time was the religious question raised," government spokesman Ange-Maxime Kazaguhe said Saturday.
After years of confrontation between Muslim and Christian groups, the election of Meckassoua in 2016 was seen as a symbol of reconciliation between communities in the Central African Republic.
But observers have also said that relations between Meckassoua and President Faustin-Archange Touadera, a Christian, have never been good.
The Central African government controls only a small part of its territory, with vast parts living under the control of armed groups.
The country of 4.5 million inhabitants, rich in diamonds and uranium, counts among the world's poorest.