Large waist size raises risks of diabetes ...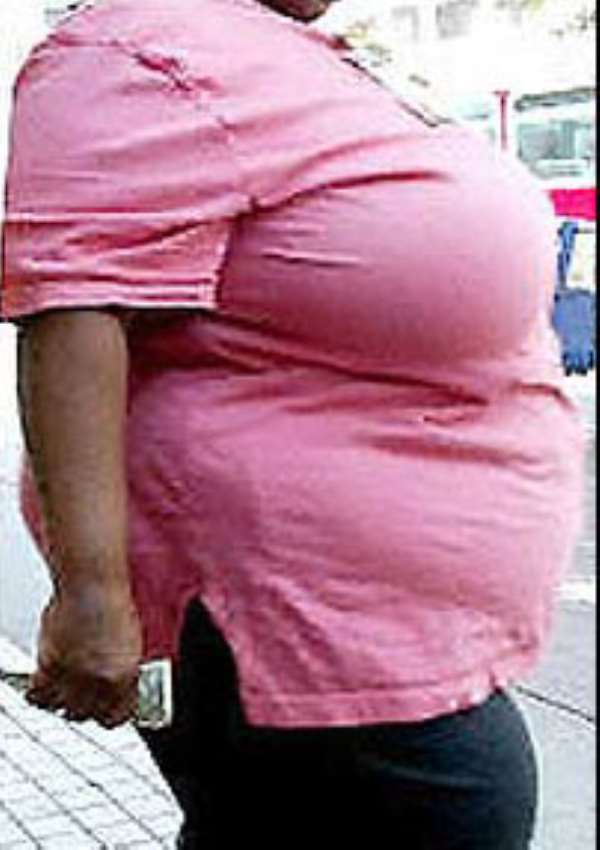 ..high blood pressure and heart disease Accra, Nov. 2, GNA - Professor Agyeman Badu Akosa, Director - General of the Ghana Health Service (GHS) on Wednesday disclosed that large waist relative to hip size raised the risk of diabetes, high blood pressure and heart disease.
Maintaining a healthy weight and body shapes dramatically reduced the risk, as excess abdominal fat was more resistant to the actions of insulin.
Prof. Akosa was speaking at a press briefing on the celebration of the Ghana Health Service month on the theme: "Healthy Lifestyle - Healthy Living".
He noted that abdominal obesity was an easy maker of cardiovascular risk, saying: "Your heart is at risk not only by the amount of body fat but also where the fat is located.
"Weight and height as indexes of Body Mass Index (BMI) and hip and waist ratios are determinants of your health. Normal BMI must be between 18 and 25. Between 26 and 29 is overweight and 30 is obese." Body Mass Index is the weight in kilograms over the height in metres-square of a person.
Prof. Akosa said in males it must be a maximum of one as BMI greater than one in males indicated abdominal obesity.
Men and women with waist size above 40 inches were considered as being at significant risk of heart diseases and stroke, he said. He said maintaining a healthy weight consist of a balance of energy consumed and energy burned, adding that for adults, at least 30 minutes of brisk walking a day would help reduce risk factors. Prof. Akosa urged Ghanaians to adopt eating a balanced diet including plenty of fruits and vegetables, whole grain products, lean meat, fish and pulses.
"Health is produced by the family and by individuals, health professionals only mend problems," he said. On the issue of the National Health Insurance Scheme (NHIS), he urged the media to help create awareness and educate the public on the scheme. He said GHS had undertaken series of activities to effectively deal with challenges and provide maximum support to move NHIS forward.