Macron slams Saudi arms embargo call as 'demagogy'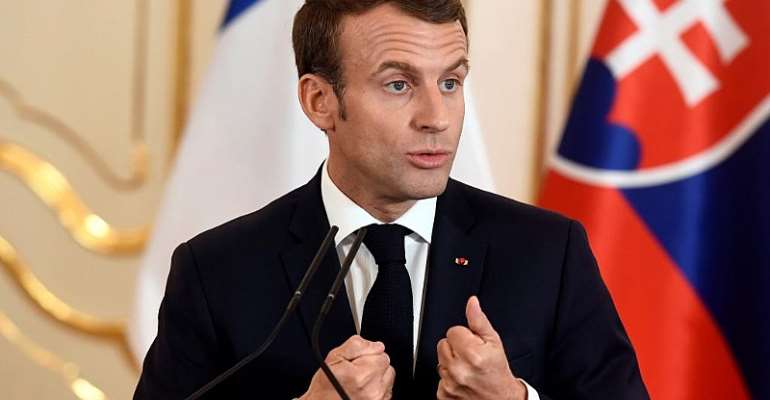 French President Emmanuel Macron lashed out at calls for an arms embargo on Saudi Arabia, implicitly criticising German Chancellor Angela Merkel who has proposed the ban in the light of the killing of Saudi journalist Jamal Khashoggi. Paris has threatened to scrap a plan to build a fighter jet with Germany unless it can be sold to any country without restriction, according to press reports.
In an unprecedentedly harsh, if indirect, attack on the leader of France's principal ally in the European Union, Macron dubbed the call "pure demagogy".
"What have arms sales got to do with Mr Khashoggi?" he asked a press conference in Slovakia's capital, Bratislava, where he was attending an EU summit.
An international scandal has blown up over the journalist's apparent murder in the Saudi consulate in Istanbul, leading the European parliament to pass a resolution calling for the arms-sales ban .
"I really admire people who, before they even know, say 'We won't sell any more arms'," Macron declared sarcastically. "Sometimes they sell more [weapons] than France throught joint ventures."
Saudi Arabia is the world's largest arms importer and the US accounts for more than half of its purchases.
Its other leading suppliers in 2017 were the UK and Canada, followed by Germany and France.
Yemen war
Merkel confirmed her position during a visit to Prague on Friday.
"We need to clarify the background of this horrible crime and until that, we will not supply weapons to Saudi Arabia," she said.
She also called on Riyadh to help end the devastating humanitarian crisis in Yemen, where the Saudis have been intervening in a civil war since 2015.
Austrian Foreign Affairs Minister Karin Kneissi backed the ban in an interview with Germany's Die Welt  newspaper but linking it to the Yemen war.
Macron conceded that arms sales could be associated with that conflict but added another dig at Germany, "If we want to impose sanctions, they have to be in all areas. In that case, sales of vehicles will have to stop."
Vehicles are among Germany's most important export markets.
The French president "strongly condemned" Khashoggi's murder but called for the "facts to be clearly established, especially on who was responsible and ordered it" and called for "clear and consistent" sanctions at EU level.
France has has indirectly threatened to pull out of a Franco-German project to construct a fighter jet if Berlin refuses to accept that it can be exported anywhere "including in countries in crisis, like Saudi Arabla", according to Der Spiegel magazine.
Macron stressed the importance of the West's alliance with Saudi Arabia for the fight against the Islamic State armed group, military cooperation and the supply of oil.
"Lots of people have the rise in the price of oil on their minds," he commented. "They should also consider the consequences they are inviting, given this country's place in that geopolitical situation."
Saudi Arabia on Saturday rejected Turkey's call to extradite the suspects in the Khashoggi murder.