Nana Akufo-Addo, Why Do You Care About Terrorism But Not Ebola?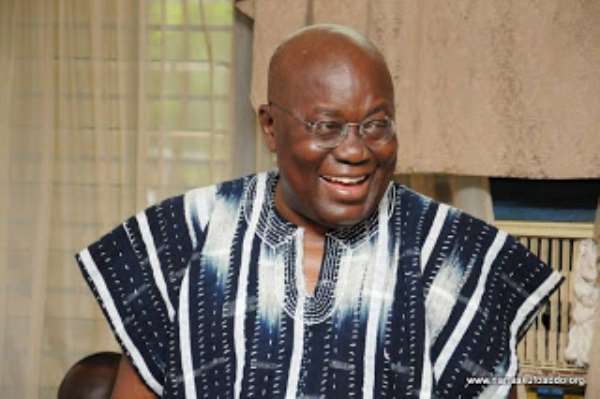 The Ghanaian leader, Nana Akufo-Addo: Photo credit- Nana Akufo-Addo.Org
Nana Akufo-Addo, the strength of every country is its economic growth, which is an important solution against poverty and hunger in developing countries.
It's therefore; the responsibility of the government to encourage investment and develop the private sectors. I am very glad you are doing that. I must congratulate you on that.
Nana Akufo- Addo, as a leader, it's great to show concern about dangers the continent of Africa faces. You are right, Nana, conflict, instability, violent extremism and terrorism constitute major threats to the very survival of the African peoples.
ModernGhana reference: President Akufo-Addo Speaks Against Terrorism
"Efforts at the integration of the continent will be negatively affected if African countries continue to battle with the human security challenges, which confront their peoples. No country would want to integrate with another whose house is on fire", Nana Akufo-Addo added.
Nana, I am a worried man; because I see that the biggest threat Africa faces now is Ebola explosion, not terrorism. The latter part of your statement is: "No country would want to integrate with another whose house is on fire," but Nana which country would want to integrate with another whose house is on Ebola?
You see, actions speak louder than words and sometimes silence means deception. Why it hasn't been an issue of concern to many African leaders, including you to speak about the threat Africa faces, concerning Ebola, instead of talking about terrorism?
Which deadly disease is killing Africans at the moment and has affected the continent's economies at the same time? Nana, you can't pretend that you care about Africa or Ghana and talk about the threat of terrorism, while you can't speak about the real danger the entire African continent faces at the moment.
The silence of African leaders, like you, refraining from speaking about Ebola, gives ample information or evidence that you either protecting certain authorities or know very well that Ebola is a biological weapon to depopulate Africa. If you care about terrorism, then you must be highly worried about Ebola because the disease is contagious and fatal. Not even Europe or America is safe.
If not then speak about Ebola for Ghanaians to know that you care about Africa because if care is not taken something terrible is going to happen in Africa very soon since many Ebola victims have refused treatment and also ongoing war at the mostly-affected zones has increased the number of victims.
In the abundance of resources, African leaders have disappointed Africans miserably. All African leaders are facing difficulties in running the continent because you people think the 'truth' doesn't matter.
Not at all, the truth plays a major role in every activity because it's a light which guides people to see clearly without falling. At your office, you can't work in darkness, therefore, give the 'truth' a chance.
Therefore, until African leaders stop taking money from the US government, stop protecting those responsible and apologize to Africans, Africa will be in the same position, no matter hard you people will try because all of you have blood stain in your palms.like those responsible for the medical genocides in Africa.