Communities Empowered To Manage Natural Resources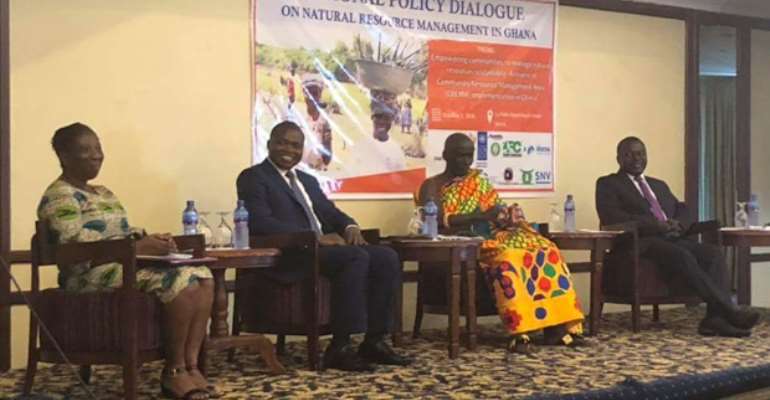 A National Policy Dialogue to discuss the achievement and challenges of Community Resource Management Areas (CREMAs) across the country has been held in Accra.
The dialogue, which was on the theme: "Empowering Communities to Manage Natural Resources Sustainably: A Review of CREMAs Implementation in Ghana," was organized by the United Nations Development Programme (UNDP), in partnership with the Ministry of Lands and Natural Resources (MLNR), Green Livelihood Alliance, SNV, IUCN, Mondelez International Cocoa Life Program, Forestry Commission and the Shared Resources Joint Solutions Alliance.
It brought together over 120 participants, including representatives and practitioners of CREMAs, state agencies, development partners, private sector and stakeholders across the country.
CREMAs is a collaborative and inclusive natural resources governance and management framework, which was adopted to phase out strict conservation practices and pave way to recognize and foster local community participation and responsibility in the conservation of natural resources in Ghana.
The dialogue identified and discussed key issues, prospects and elaborated on critical action points for shared action and implementation to achieve CREMAs intended outcomes and vision.
It also reviewed ongoing developments through the experiences shared.
The participants recognized government's efforts over the years to address the concerns of the CREMAs.
They also appreciated the swift response from government to address challenges facing the CREMAs, taking into consideration the recommendations outlined below.
These actions, when implemented, are expected to empower more communities to manage and conserve natural resources towards sustainable development.
CREMA, as an institutional framework for community participation in natural resource management in Ghana, is progressively yielding good outcomes, with wide community and public acceptance as the way to go in securing Ghana's remnant natural heritage.
CREMAs is the only workable option to ensure participation and transfer responsibility and benefit to community in achieving emissions reductions for REDD+, addressing the illegal logging and mining, directing investment to support green commodity value chains critical for livelihoods and building resilience and prosperity in communities across the country.
The absence of a consolidated national legal framework, insufficient recognition and support from law enforcement and compliance agencies is limiting true empowerment of CREMAs and eroding the gains made so far.
It's also reducing opportunities to achieve real reforms in the natural management sector.