Plastic Punch Brings Its Expertise To Massive Online Open Course On Ocean Science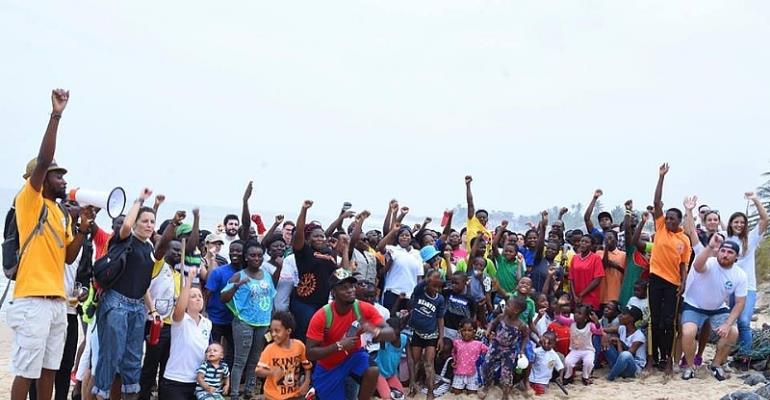 International Training initiative on Ocean Science by the SDG Academy has extended invitation to Ghana's environmental advocates and ecosystem campaigners, Plastic Punch to bring their expertise on the online open training course ´One Ocean, One Planet ' which focuses on SDG14.
The OCEAN MOOC is an online open course on the ocean which was launched on 24th September, 2018. Enrollment remains open. All materials will be available online till course closes till 19 November, 2018
This online open course is an SDG driven Academy on ocean science sustainability.
In an interview with the Co-Founder and Director of Plastic Punch Richmond Kennedy Quarcoo, who is an Ocean expert and engager on the MOOC, he was hopeful the course will open opportunities for collaboration with marine scientists, experts and researchers to improve the current status of ocean health and marine conservation in Ghana.
"Plastic Punch is featured on the Ocean MOOC as one of the Science to Solution initiatives; the MOOC was created by marine scientists teaming up with economists, lawyers and philosophers to present a holistic view of how the ocean functions, how human interactions with the ocean can be understood, and what solutions are available to support both sustainable use and stewardship of our blue planet. In addition to their interest in top-level research, they all share a passion for the ocean." He explained.
For more information visit:
http://www.oceanmooc.org/en/index.php
About Plastic Punch
Plastic Punch was created by an international team of talented professionals, passionate about protecting the environment, with experience in biodiversity conservation, marine pollution and international relations. It was launched in March this year.
The project organizes awareness campaigns via mass media and through beach clean-ups for turtles nesting areas, by involving the local communities and residents of Accra.
The coastal area between Prampram and New Ningo, 15 km from Tema, is the target for this project, as it is a nesting site for the marine turtles and has high amounts of waste on its shore and water.