Money: pick it from the gutters
22.10.2018, KNUST University, Ghana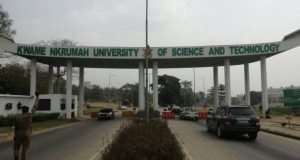 "Watch out…it is coming to you," was Kwame warning his friend Kojo who was not seeing that a Molotov cocktail in the air was about to land on him. Few meters away from where they were standing, used tires were burning; toxic smoke was filling the air. Everywhere on the campus students were on rampage, destroying cars, smashing windows of offices, running around like mad people with no plan. The thought was crossing their minds, was this the starting point of a violent uprising against the Political Elite or only a short lived protest against the Vice Chancellor of the University due to be silenced in short time?
Kojo was bleeding on his right hand crying out:" Dam shit…dam shit that is. With this hand I am supposed to write our next exams… and now only God knows whether it is not broken."
Kwame was rushing over to him always hiding behind objects not to get injured himself. He took off his shirt, cut it into pieces, making a bandage around his friend's hand, and was able to stop the bleeding forcing Kojo to rest on the steps to the rooms of the Department of Information Technology.
"We Africans are not able to learn…as it seems," was Kojo laughing while seeing the blood stains coming through the bandage. "A successful revolution you do not achieve by taking your emotions to the streets, only by taking your brains to the streets."
Kwame was on watch observing carefully the surrounding seeing that more and more cars were overturned and smashed. In the distance he was able to hear the sirens of the Rapid Police Force called to the scene. "I hope they will not get wild and shoot on emotional but innocent civilians."
"When someone has a constitution written and in place, a team to govern a country well ready on stand-by…a revolution will not provoke any great amount of casualties, destroyed properties and ask for counter revolution with a new system in place that is corrupt in itself in a different form…but corrupt anyway."
"You mean no lesson learnt from Arab Spring and other revolutions in the past?" asked Kwame with a smile on his face speaking endlessly of the weaknesses of many nations. "To build a good future on emotions…oh God, that will never work. Nations are successful only when they use their brain power over their emotional stress…something far from our mentality…but possible to learn."
"Anything other people know, anyone can know and go beyond…if the fundamental mindset for it is what people and nations are driving on and towards," lectured Kojo. He was looking around him not knowing exactly for what. His eyes spotted a broken sheet of paper, a page from a newsmagazine reading out loud: "Among women mostly African women are affected by Fibroid, 80% out of them are Ghanaians." The article was published by Dr. Frank Upleger, Gynecologist from Hamburg in Germany. He turned to Kwame asking: "Does this mean God has created us Ghanaians special?"
"Watch out…,"was Kwame shouting loud pulling Kojo over to his side. Only in seconds was his friend saved from another burning tire covered in smoke. Meanwhile the Police Force had arrived starting to disperse the angry students with bullets shot into the air.
"We are living in dangerous times…I am telling you," was Kojo feeling the pain in his hand. "Something fundamentally is going to change our country…for many generations to come."
"Or maybe it is just one odd thing and all our comrades here on campus, when one day Political Elite themselves, will do what this generation of leaders is doing, to care only for their own good."
"But it should not be so," insisted Kojo getting up from the stairs to be able to run from any problem. "When I consider last week in Germany, Munich exactly, a meeting was held of angry investors of P&R Container Company having lost Billions of Euros in a scheme set to have rented out 1, 6 Million containers to shipping companies while only 600.000 containers were really in operation. Or remember in Germany the Cum-Ex-scandal in which estimated Euros 32 Billion where lost for the country by tax law misuse, than it tells you, money is in the streets ready to be picked up, even in the gutters when lost for the owner."
"Yes, you are right. Out there in this word is so much money from private people and organization, all it takes is to have a system in Ghana in place, honesty and trust, and this money will come to us easily. Than we have to pay less interest and dependency on any nation will not be on our mind…we would truly be a free and prosperous country that has set sail for reducing debts and create wealth beyond today´s imagination," added Kwame quietly leaving the scene to avoid their arrest.
"I know that in many countries Professionals are on pension but ready to come as individuals to help our companies with their advice for pocket money and great enthusiasm like Senior Expert Service in Germany and their 8000 members. This potential we can use very well for our own benefit, only if…."
"We as a nation have to have our right fundamentals in place to see, use them and benefit for our people."
"True," pushed Kojo Kwame to the side hiding from more incoming Police cars. "Are we as a Nation ready?"
Kwame stood still looking with weary eyes on the right hand of his friend while the bleeding was about to stop:" Not yet…and if, only by force."