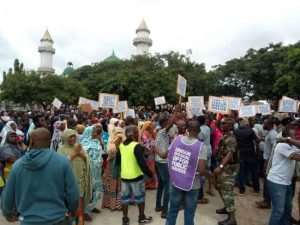 The families of the seven Zongo youth who were shot by the police in Asawase in the Ashanti Region have demanded government make public, the findings of the committee that investigated the shooting.
The report of the committee has been forwarded to the office of the Vice President, and its conclusions are still unknown.
The families, said they had been left in the dark and demands the President implements the recommendations of the committee for justice to prevail.
Zakaria Musa who spoke for the affected families said government not disclosing findings of the report to the families is unfair.
"Respective families did appear before the committee, the police appeared, the pathologist who conducted the autopsy was also present, and I am sure the report from the autopsy is with the committee, and I am sure it is part of the reports forwarded to the authority. It has been over a month now, and the family doesn't know anything," he said.
According to him the inability of the government to the disclosure findings of the investigation is not suitable for the security of the Area.
The Independent Committee set up to investigate the police killing of the seven Zongo youth in the Ashanti Region, submitted its report to the Vice President, Dr. Mahamudu Bawumia Wednesday, 26th September, which was forwarded to the Attorney General's office for the necessary steps to be taken.
Protests over the killing of seven Zongo residents
In July this year, hundreds of youth from the Zongo community trooped to Kumasi Central Mosque to register their displeasure over the killings of the seven men.
The Police in a media briefing on the death of the youth said the young men were killed because they were armed robbers who exchanged fire with them.
However, relatives and friends of the seven accused the police of planting guns to frame the deceased persons after they had been gruesomely killed.
They insisted the seven men were not robbers, and yet were painfully killed .
The Zongo community in Kumasi has often complained over perceived stereotyping that has led to the killing of multiple Zongo youth over the past few months.
The leadership of the Zongo community in the Ashanti Region had vowed to rise against these killings.
They have been putting pressure on the government to release the report.