"Just One Social Intervention Policy"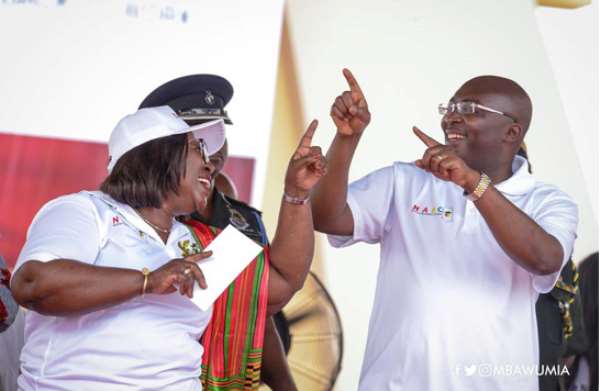 I have followed the debate about the number of Social Interventions initiated by the erstwhile 8yr rule of NDC with keen interest and amazed about the manner in which they dazed and confused about the call from H.E Dr Bawumia.
I wouldn't waste my time to write or copy from "Wikipedia" or "Oxford Dictionary" the meanings and or differences between Social Intervention and or Social Amenities. Roads, Schools, Hospitals, Clinics, etc, the list on Infrastructural facilities goes on.
The building or construction of these facilities are not the end to themselves but their use and benefit of the Ghanaian people is.
NOW, how accessible are these Social Amenities that are built by the Ghanaian taxes?
Government now has a responsibility of initiating Programmes that will ensure that these Amenities becomes easily accessible and equal opportunities for all Ghanaians through interventions such as;
"FREE MATERNAL HEALTHCARE":
This programme creates an equal opportunity for every singular Maternal Mother to have access to Healthcare irrespective of where you find yourself and before the implementation of this Programme, Women chose to deliver at home despite the thousands of risks during child birth because they couldn't afford to pay hospital bills.
"NATIONAL HEALTH INSURANCE SCHEME":
We had Hospitals and Clinics yet people couldn't afford to pay to enable them have access to the very facilities they built using their taxes.
NHIS has given people the opportunity to access basic Healthcare services and also encouraged people to use the facilities they used their taxes to build without having to pay a Pesewa in some cases.
"SCHOOL FEEDING, CAPITATION GRANT And FREE EXERCISE BOOKS":
The Constitution provides an opportunity for every Ghanaian Child to acquire Free Compulsory Basic Education but there are some other factors that hinders children from going to school despite been a Constitutional right, some of which were Fees, Hunger, inability to even buy Learning Materials, etc.
The implementation of the school feeding Programme was to ensure that students are kept in schools for the required contact hours such that they wouldn't run home because of hunger and a capitation grant that will enable leadership in schools to continue developing their facilities and equipping them to be fit a good status of a learning environment. Pupils were also given exercise books to enable them put them notes and quizzes.
"LIVELIHOOD EMPOWERMENT AGAINST POVERTY":
Livelihood Empowerment Against Poverty (LEAP) programme is a social cash transfer programme that provides cash and health insurance to the extremely poor households across the country. Its main aim was to alleviate short-term poverty and encourage long-term human capital development. There are some basic needs that still becomes a life-time challenge for people in Ghana despite this intervention and no amount of building can alleviate the situation of these households.
"FREE SHS":
This is one of the Social Interventions that will forever remain in the hearts of the Ghanaian parents and students.
The implementation of this Policy became very necessary due to the number of pupils who fail to continue their education into the second cycle due to the inability of their parents to pay for their School Fees and this growing trend was becoming of greater concern to this current administration because we were indirectly having a growing population of "half-literates". About twice of enrolment Figures are recorded yearly through the implementation of the policy. The development of every nation depends on its human resources and not the land resources.
We had schools and yet pupils were at home due to lack of school fees.
"PLANTING FOR FOOD AND JOBS":
Everyone in this country including the NDC knew very well that this country depends largely on Agriculture to survive and yet it was at the verge of collapsing because Farmers couldn't afford to pay Fertilisers nor pay for farming activities such as ploughing and spraying, etc that saw our Agricultural growth dwindle down to less than 3% in this country.
SADA procured tractors but where were they?
The implementation of P4F&J by far has salvaged the situation and our Agriculture grew up by about 8% in 2017 and likely to double or rise further in 2018. Fertilisers been subsidised, ploughing at a reduced rate, seeds and seedling given for free and many others.
"NYEP AND NABCO":
The growing high unemployment rate and little or no space in the Public Sector and yet there are graduation ceremonies on yearly basis was the reason and still is the reason why sensitive governments initiated and initiates these policies or programmes to ensure that we give an opportunity to citizens to serve their country and also to earn a stipend that cushion them in acquiring their daily bread and basic needs.
The solution to this growing trend was to FREEZE EMPLOYMENT when the Incompetent One was given an opportunity to Serve. Today we have about 100,000 graduates been enrolled under NABCO and several other people's lives became better through NYEP.
"MICROFINANCE AND SMALL LOANS CENTRE":
MASLOC provides micro and small loans for start-ups and small businesses with fast, easy and accessible microcredit and small loans to grow and expand their businesses as well as to enhance job and wealth creation. This intervention was committed to growing and developing small and micro businesses through the provision of sustainable microfinance, small loans and business services to Ghanaian entrepreneurs.
The numerous buildings couldn't afford to provide these entrepreneurs this opportunity.
"METRO MASS TRANSIT":
This intervention was to share a common goal to ensure that public transport is accessible to all and that the pedestrian and traffic environments are designed and managed to enable people reach and use public transport safely and with confidence. This came with a "Free Bus ride" for school children to continually improve attendance of pupils at their distant schools.
REDUCTION IN ELECTRICITY AND WATER BILLS, the list goes on.
We are looking at Pro Poor Policies or interventions that will elevate the ordinary citizens from hardships and sufferings despite any challenges the country or nation may have been facing.
Let's elevate the discourse or debate.
Before I end my write up, please just mention 1- "Pro-Poor Policy" or if you like 1 - Social Intervention Policy and not amenity.
God Bless NPP.
God Bless Ghana.
God Bless us All.
Thank You.