Guinea police fire tear gas on banned demo in Conakry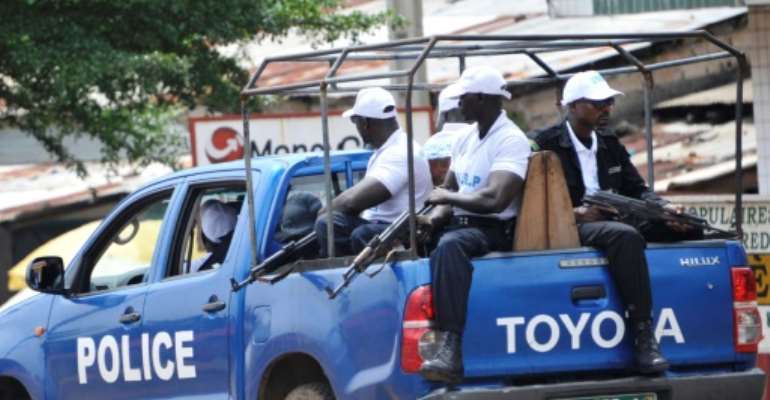 Guinea police clashed with hundreds of youths Tuesday in the capital Conakry and the opposition leader claimed his car was shot at during a banned rally over disputed elections.
"They wanted to assassinate me," Cellou Dalien Diallo claimed after he said his vehicle was hit by a police bullet as he was on his way to the protest.
After protesters attempted to block traffic in Conakry's Cosa district, they lobbed stones in clashes with police who responded with tear gas, an AFP reporter said.
Tensions have been high in the poor West African country since the death on October 16 of a protester during a two-day campaign aimed at bringing Conakry to a standstill.
Diallo, a former prime minister and key opponent of President Alpha Conde, accused the gendarmerie of targeting his vehicle.
"The bullet passed between my driver and me," he said, showing a reporter where he claimed a bullet went through the front and rear windows of the car. His driver was injured by shattered glass, Diallo said.
AFP could not immediately confirm police had fired live rounds. A police spokesman declined comment when asked by AFP about Diallo's allegations.
The opposition on Monday had urged supporters to go ahead with the protest despite a ban by local authorities citing safety concerns for schools in the area.
Relatives say the protesters who died at a rally on October 16 was shot in the chest by riot police, while a police spokesman said he was hit by a stray bullet.
Riot police chief General Ansoumane Camara told reporters earlier that any attempt to provoke a march or block traffic on Tuesday would be repressed.
The opposition claims Conde's government has reneged on a deal to install new officials elected in the contested February 4 municipal ballot, the first such vote since the end of a military dictatorship a decade ago.
Authorities have started to install new municipal officials, with the opposition accusing the government of bribing some of them to keep control of local councils across the former French colony.
The municipal elections had been repeatedly delayed because of political infighting and the Ebola crisis in 2013-16.