BlueCrest School of Fashion and Design Unveils Logo for Graduate Fashion Show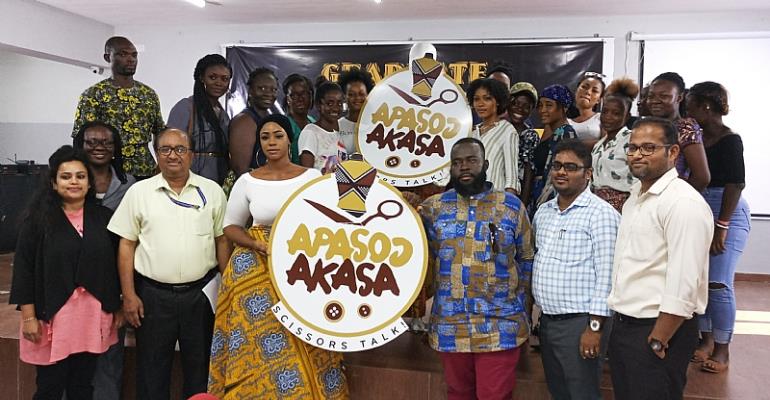 The BlueCrest School of Fashion and Design has unveiled an official logo for this year's fashion show slated for November 10, 2018 at the Provident Centre Events in Labadi, Accra.
The event dubbed, "Graduate Showcase," will afford graduating students the platform to exhibit their fashion creativity and talents to the public.
The 45 graduating students will mount the stage to display self-made clothing styles and designs as part of the requirements for the course.
The graduating students made up of certificate, diploma and degree students will also showcase their collections made up of fabrics, designs and many more.
Speaking to ModernGhana on the sideline of the ceremony, the Rector of the School, Prof. Sunil Kumar Roy said the event seeks to promote the fashion creativity of students to the entire world as they prepare to compete in the job market.
He noted that the fashion sense of Ghanaians is very high, the challenge however is the practical ways of marketing our designs in order to compete globally with other fashion giants.
The Rector indicated that BlueCrest School of Fashion and Design is poised to bridge the gap with the introduction of their modern technologies as well as a trip to a fashion show in Dubai for selected students to equip them with both practical and theory knowledge of their course.
The Academic Head of BlueCrest School of Fashion and Design, Rajesh Kumar Pillai stressed that every semester graduating students showcase their talents and skills they have leant throughout the course.
According to him, the thought of having their own logo for the graduate showcase after several fashion shows with an African essence named, "Apasoↄ Akasa" which means Scissors Talk.
He intimated that guests will be excited with beautiful collection of designs and fabrics made of African prints.
Mr. Pillai emphasized that the school is focused on producing world class students with the introduction of the first ever Computer Aided Fashion Design.
He added that the Computer Aided Fashion Design provides students with the skills and competencies to meet the increasing demand of fashion aficionados.
According to him, the REACH Fashion Studio enables the students to learn 2D, 3D Designs with product visualization, texture mapping, color reduction and clearing, design and repeat, color ways and color communication.