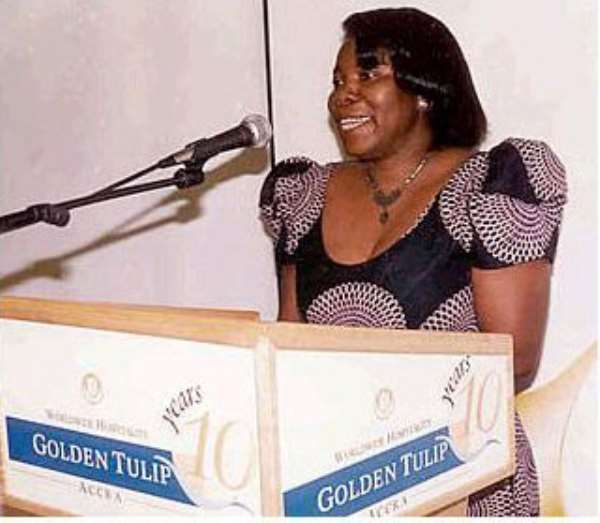 THE EMBATTLED Director -General of the Ghana Broadcasting Corporation (GBC), Ms Eva Lokko, has been directed by the National Media Commission (NMC), to proceed on leave effective Wednesday, November 2, 2005, following a protracted battle between her and unionised workers, over the withdrawal of huge sums of money, from the corporation's account.
According to a source at the corporation's premises, Eva, who has been accused by the unionised workers, together with the finance director of GBC, Kofi Kye, was yesterday spotted feverishly preparing her hand-over notes under heavy police protection, to forestal any unsavoury reaction by the workers.
According to our reliable source, close to the GBC, verification of all the corporation's chequebooks at its Treasury, as at September 6, from 4:45 pm to 6:30 pm, revealed that certain bank cheque leaflets and counterfoils had gone missing. These included Prudential Bank cheque book Number 3, bearing cheque leaflets numbered 214319, 214322, 214325 and 214333, which could not be found, in addition to Prudential Bank cheque book number 8, which also bore cheque leaflets numbered 979939 and 979942. Also, Trust Bank VAT Account cheque Number 303563 could not be accounted for.
A certain Emmanuel Parker, the source stated, cashed an amount of ¢87, 750,000 with cheque leaflet number 214319, while one Bismark Acheampong cashed millions of cedis with leaflet Number 214325. For leaflets Numbered 214322 and 214333, both designated, "Turnover", amounts of 215,850,000 cedis and 246,770,000 cedis, respectively, were cashed.
The source also indicated that GBC's Treasury Office could not trace the missing leaflets, while the cheque release book had no record of the monies. There were no vouchers too, indicating that there had been payment to any supplier of any items of the corporation.
While the Criminal Investigations Department of the Ghana Police Service is investigating the issue, Nana Kobina Nketsiah, Board Chairman of GBC, has been asked to take over the administration of the corporation till further notice.