Afforestation Youth Salaries Cut Down From GHC1,200 To GHC700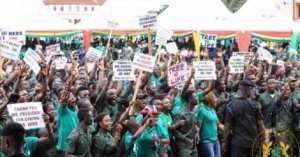 Staff of the Youth in Afforestation programme have rejected government's decision to slash their allowances.
According to them, such a decision contradicts the initial contract they signed with the Forestry Commission and the Youth Employment Agency (YEA).
Earlier this month, the Forestry Commission communicated to all beneficiaries, explaining that their allowances have been slashed in order to accommodate the cost involved in paying workers of the newly introduced Nation Builders Corps (NABCo).
Supervisors will now receive a monthly allowance of GHc 700, instead of the GHc 1,200 which they previously took home.
The allowance of HND holders, who were initially earning GHc 800 as deputy supervisors, has also been slashed to GHc 700.
However, there was no change in the salaries of workers with WASSCE certificates - such personnel will continue to receive GHc 400.
The decision to slash the allowances has not gone down well with some staff of the Youth in Afforestation programme, who are currently threatening a protest.
'The decision by the management is in total breach of the agreement we both had. The Forestry Commission and Youth Employment Agency made an offer and we, beneficiaries, accepted it and appended our signatures, hence, it becomes binding under the law of contract,' sections of the letter read.
They further pointed out that the allowances due them for over five months has still not been paid, adding that if they are not paid before Thursday, 25 October 2018, 'we'll not hesitate in taking the next line of action'.