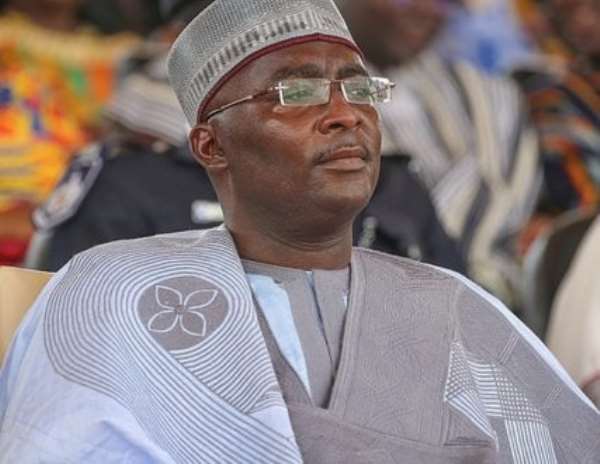 Vice President Bawumia
Vice President Dr Mahamudu Bawumia says being in power for only 20months, the Akufo-Addo presidency has done more to transform Ghana than all Governments since independence.
According to him, "in just 20 months, we have implemented policies and programs designed to formalize and digitize the economy and make life easier for the ordinary man and businesses."
Dr Bawumia who was addressing participants at the UK-Ghana Investment Summit in Accra last Tuesday added "this government is building a new, confident, modern Ghana through the use of technology and the implementation of critical reforms. We have delivered in this short period, and will continue to deliver in the coming days, months and years."
Listening and pondering over his comment, Dr Bawumia is indeed right that the 20 months of the Akufo Addo government is unprecedented in Ghana's history. Why not?
He himself publicly told us that his wife, Samira has counseled him to stop being un-truthful. But it has taken him less than one month to break the wife's good counsel.
For the first time in 20months of our 61 years history, the Government and the NIA for well over one year, while attempting to digitize Ghana has given 7 different Ghana Card registration commencement dates but failed in fulfilling any.
At the heart of the communication of all the failed registration commencement dates is Vice President, Dr Bawumia whose joy lately is in things that even serial callers would weigh before venturing and has as a result reduced the status of the high office he occupies. Sadly historic!
It is historic, that under him as head of Economic Management Team, Tax to GDP ratio has dropped by 42% from 12.4% - 7.1%, Capital expenditure to GDP also slumped by 50% from 2.2% - 1.1%, Gh40billion borrowed as loan in 18months, making 33% of the loans Prof Mills/Mahama regime took in 8years and not even a KVIP project has the Akufo Addo/Dr Bawumia regime to show for it.
Also historic, Non-Performing Loans has increased by GH1.5billion; the Cedi is struggling, cost of fuel as high as Gh25.0, 71.4% more than the NPP came to meet.
As we speak, 2nd quarter economic growth figures for 2018 don't look good as some key sub-sectors grew in the negative; financial and insurance activities grew by (-13.4%), professional, administrative and support services (-5.9%), water and sewerage (-3.5%), trade, repairs of vehicles, household goods grew by (-1.5%), transport and storage (-1.1%) and real estate (- 0.8%).
In 20 months, what hasn't been done since independence, Dr Bawumia who at some of his public lectures promised an establishment of a Financial Stabilization Council to stabilize a supposedly troubled financial sector, on assumption of power is rather overseeing the collapse of indigenous businesses and banks resulting in massive job losses and deaths of some redundant staff.
"Building concrete roads will be transformational because as for laying concrete, we can all do it in Ghana. You don't need to get anybody to come and lay concrete for you. Any mason from any village can come and lay the concrete and go on. Government realized that 1km of a concrete road will cost $3.8million and will last 40years but that of asphalt will cost $2.8million but will take only 10years. So $3.8m for 40years and $2.8m for 10years – the economics is very simple." This was Dr Bawumia at the Lighthouse Chapel, Qodesh.
Since April 2017 after he on behalf of the President announced the switch in policy, there is hardly any sign anywhere of a switch to the policy of building concrete roads.
Even predating the above, Dr. Bawumia at the launch of the NPP's 2016 manifesto said "a massive Infrastructure for poverty eradication in the local areas of Ghana will be the focus and that after the first 2 years [of NPP], no village or community will have a water or toilet problem."
"When Dr Bawumia greets good morning, pause to check the direction or location of the sun before responding." Alhaji ABA Fuseini
In 20months, a Vice President who accuses others as people who don't read will, himself not detect simple grammatical errors in Awards he gleefully presented at a ceremony, this aside the shameful act of sharing expired foods to disaster victims without first verifying the expiry dates.
Only in this time that the Vice President and his wife, Samira will attempt to outdo each other in their huge sizes of delegation for foreign trips while deceiving us of protecting the public purse.
In this time of Ghana's history, only a Yakubu Bawumia, could be employed as a Valet for Dr Bawumia. None of the NPP foot soldiers who toiled to bring the party to power is fit to polish Veep's shoe or iron his clothing.
Dr Bawumia is indeed right! In 20 months!
Honesty is the first chapter in the book of wisdom - Thomas Jefferson
Writer: Koku Mawuli Nanegbe