NUGS Condemns Attack On KNUST Students; Calls Students To Support The SRC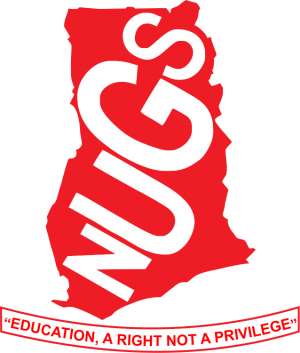 The National Union of Ghana Students, NUGS, has noted with grave concern, the molestation and security brutalization of students, at the Kwame Nkrumah University of Science and Technology, KNUST on 19th October, 2018, by operatives of the KNUST Security.
The Union wishes to state in no ambiguous and unequivocal terms that the said act was to say the least shameful, irresponsible and undeserving of a University touted as the beacon of hope for the West African sub region and the African continent as a whole as far as innovation is concerned. 19th October, 2018 was a day of shame for the Student Movement in Ghana and KNUST for that matter.
A free and independent society without any fear of brutalities whether by the security services or civilians is very critical for developing and growing our young democracy. KNUST has contributed incalculably to the development of the democracy that we are all enjoying today. It is therefore heinous that any group of people will visit any form of attack on these progressive element of a democratic society such as ours. Any attack on any Student is deemed subversive oppression and anti democratic for which the students of Ghana will not countenance.
The students of KNUST love the air of freedom in the University and as such are calling on His Excellency the President of the Republic, the Ministry of Education to ensure that the actions of the Vice Chancellor do not jeopardize the peace of the University, both present and future. The freedom that KNUST is enjoying today was won at a very high price and as such must be guarded with uncompromising jealousy.
We wish to reiterate the point as has been made by all other progressive forces to the security service and all concerned that the safety and freedom is essential for any democracy to thrive.
NUGS wishes to call on the President – Nana Addo Dankwa Akufo Addo and the Minister of Education - Dr. Matthew Opoku Prempeh (MP) to as a matter of urgency constitute a committee to investigate the matter and bring the perpetrators of this dastardly act to book to serve as a deterrent to others who may deign to think that they can do anything in KNUST and go free.
In conclusion, the National Union of Ghanaian Students is in full support of the SRC and the Local NUGS for declaring a strike on lectures and the peaceful demondtration it has declared thereof. That is what the National Union of Ghana Students stood for over many years, and that is the tradition that NUGS seeks to continue. The National Union of Ghana Students will therefore resist any attempt to stifle Students freedom and will always remain on the side of Students .
Signed.
Elisha Oheneba Essumang
(Co-President-NUGS)
(0244199288)
Kojo Blay
(Co-Press and Information Secretary)
(0275770400)