K. B. Asante sues for ¢1bn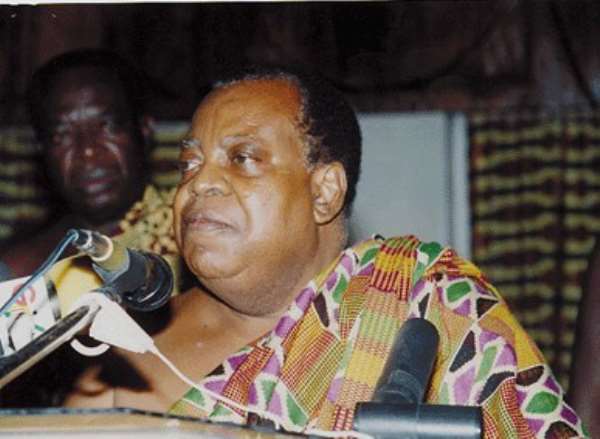 NANA SUSUBIRIBI Krobea Asante, Omanhene of Asokore in Ashanti, has filed a lawsuit against the editor and publisher of the Kumasi Mail, a local newspaper and four others.
The suit, filed on behalf of the chief by Kofi Addo and Associates on October 25, 2005 before a Kumasi High Court, mentioned Opanin Kwame Anning Agyekum, a concerned citizen of Asokore, Opanin Kwabena, destooled Kyidomhene, Nana Frimpong Ampu II destooled Akyeamehene and Mr. Paul Kwame Boateng, all of Asokore as co-defendants.
Nana Krobea Asante, known in private life as Dr. S. K. B. Asante, was claiming general damages jointly and severally against the defendants for libel contained in a number of publications in the Kumasi Mail.
For the stated complaints, the chief was claiming special damages of ¢1 billion against the defendants.
The plaintiff chief was also seeking an order, compelling the defendants to retract the offending publications and apologize to him, as well as an order for perpetual injunction, restraining the defendants from any further libelous publication.
According to a statement of claim, the plaintiff would want the Kumasi Mail to retract the publications, which sought to show that the plaintiff chief was weak, uncaring and had no respect for customs and traditions.
He was also said to have been portrayed as a failure, a tyrant and a bully, who continually harassed the queen mother.
The first defendant, Opanin Anning Agyekum, was said to have caused his opinion captioned, "Why Asokorehene must go", to be published in the Letters column of the Kumasi Mail of August 1,2005.
The second and third defendants were accused of releasing a press statement captioned 'Kingmakers abandon Asokorehene" in the October 3, 2005 edition of the paper.
The Asokore chief had also sought for an interlocutory injunction restraining the defendants from publishing any libelous and defamatory words against the plaintiff or publishing any matter about the plaintiff personally or in relation to the Asokore stool and any related matter until the final determination of the suit.
The parties go to court tomorrow November 1, 2005 to argue their cases out.