Ghana government's apathy; lost $1.58 billion "unique" Grant. Unbelievable!!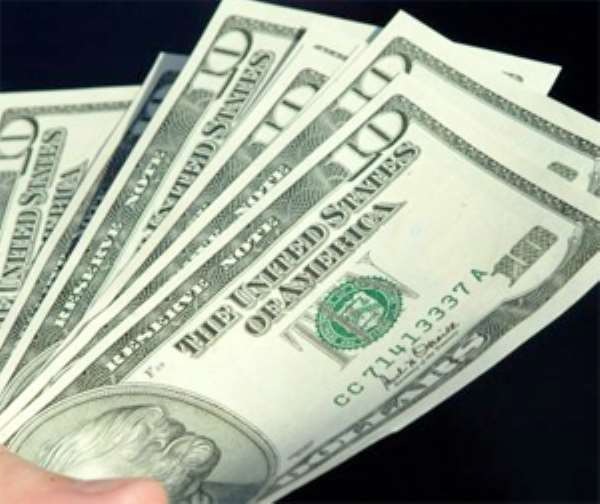 According Loanfund Exchange, a premier US Investment banking, real estate & Brokerage firm, its President Dean Mensah, presented one of its Investor's $1.58 Billion (approx. €1.38 billion Euros) "unique" humanitarian Grant for Ghana's Educational Infrastructure couple months ago. The project summary "protocol" was presented top government official close to Ghana's President. Due to Ghana government's apathy and failure to respond, the Investor terminated further engagement and now Ghana students and Ghanaians are the ultimate losers. The above generous "free" Grant offer summary terms basically were…"zero(0%) percent interest rate, zero( 0%) percent coupon, zero (0%) annual interest rate, secured by 30% Treasury bonds in Cedis denominations as collateral, 5 yr. term, no payments ever; GRANT is structured to allow "self-liquidating capitalization" and thus, "does not need to be repaid" by the REPUBLIC OF GHANA. After grant disbursement, Investor intends to return securitized Ghana Treasury bonds as security prior to its maturity and prior to project completion. This is an excellent proposal offer I have seen in years for Ghana"… Mensah, a Ghanaian expatriate contended.
Mr. Mensah avers Ghana government owes Ghanaians explanation for its indifference and failure to respond to such free Grant opportunity and this action by Ghana government's team is inconsistent with the goals our President promised. Ghana government's inability to respond timely, communicate effectively and attitude for conducting business "as usual" has to stop. Mr. Mensah recommends and respectfully request that, in connection with this Grant, President Nana Addo and VP Bawumia should quickly issue an "Executive order" to require from its government team to communicate effectively, demonstrate sense of urgency by re-engaging investor's team immediately, collaborate to cure pending Funding "suspension status" and hopefully aim to fund this Grant within 4 weeks to enable Ghana students benefit. For 12 months, the Investor team worked tirelessly to get approval for Ghana's unique Grant, and unfortunately Ghana government failed to acknowledge transaction and issue its Letter of Interest (LOI). Investor's team are disappointed and appalled with Ghana's government's team. Notwithstanding, Investor's team believes that the President and VP within days can act quickly by trying to save this Grant deal. Mr. Mensah purported that most likely Ghana President, VP and or Hon Ken Ofori-Atta personally never had the opportunity to review the above Grant package and perhaps that could have prevented such apathy.
Based on Investor team review of Ghana Budget 2017 and 2018 Appropriation bill Ghana's "Getfund" does not have ability to pay for $1.5 bn loan; it is doubtful GETFUND can & will generate projected $3 billion over 10 yrs. and or will be able to borrow against such unrealized future projected Ministry of Education revenues for the Educational Infrastructure project cost. Furthermore, Ghana's VAT tax revenues allocation proposed to be used as part payment for such project will be unequivocally inadequate. Ghana needs independent committee board to help Ghana government evaluate its funding appropriations, how to increase revenues, minimize expenses & borrowing loan activities. When expatriates attempt to help Ghana in areas Ghana lack expertise, we are not taken seriously. …Mr. Mensah said.
Mensah asserted although he doesn't speak for Ghanaians abroad, however most Ghanaians abroad really want to help in Ghana's development and want to be considered stakeholders in the matters related to Ghana. Ghana government has taken some steps in the right direction and we have long ways to go in terms of engagement and working together in bi-partisanship to resolve challenges that Ghana faces. According to Ghanaians abroad consensus, political ruling parties either ignore or make things difficult for expatriates trying to invest and or relocate back to Ghana. These expatriates get so frustrated, they see no sense of urgency, example unable to clear belongings from ports timely, exorbitant port duty, bribery, corruption and lack of rule of law. Most expatriates want to see more access to formal education, housing, electricity, water and jobs. Ghana need to limit borrowing binges that causes inflation, limit World bank/IMF loan peddling because more borrowing actions causes Ghana's weaker currencies. Ghana bears the eventual responsibility for solving its own vices. It needs better Monetary and fiscal policies and unfortunately due incompetent leadership, most government ministries, State Owned Enterprises and or Private Public Partnerships cannot function adequately. It is desirable to live in a country where police understand that its role is fundamentally to serve and protect its citizens and when called can get to its citizens timely. Access to ambulance in cases of emergency needs to be timely or improve. Objective criticism about Ghana does not mean one hates Ghana. When genuine partnerships are formed with expatriates with global experience, more talented people get into the workforce pool and limit incompetence. These partnership and respect for each other could help limit frustration, especially expatriates abandoning Investment projects, goals and going back to wherever they came from. I applaud Progressive Alliance Movement (PAMGH.ORG) working tirelessly for ratification of ROPAA to enable Ghanaian expatriates vote in Ghana's elections. Also recent Ghana's invitation for "Ghanaian in Diaspora" is a step in the right direction for expatriates and I want to see measurable and substantive progress. A lot of credit should be given to PAM leaders that made ROPAA reality by enabling Ghanaians abroad to vote. Mensah hopes expatriates will use that opportunity to vote for Ghana political Parties that share our common aspirations, vision and goals.
When genuine partnerships are formed with expatriates, more talented people get into the Labor market and limit incompetence. Genuine partnerships with expatriates and respect for each other could help limit expatriates' abandoning Ghana Investment projects, vision, mission and going back to wherever they came from.
Some of the expatriates are hopeful Ghana Government will begin to implement drastic policies to reduce migration & "brain drain."…a process where Ghana loses significant talent and its educated professionals to other nations. It cannot be just rhetoric … to simply tell expatriates to come back home. There has to tenable transition process in place to enable us contribute our global experience and expertise. Ghana has to find ways to bring us back home to participate in its development. Ghana needs strategic tenable plan to attract expatriate talented leaders & professionals play a role in Ghana's economic, social, political and all development sectors as nation.. Mensah said he is optimistic President Nana Addo will able to coalesce expatriates to play its adequate role and set Ghana on the path of prosperity because Ghanaians deserves to be more prosperous and limit Ghana's debt.
Despite having significant amounts of debts cancelled by Donor countries about a decade ago, unfortunately Ghana is now facing debt crisis due to lack of leadership. Ghana's debt crisis despite having significant amounts of debt cancelled a decade ago, the country's pays over fifty percent (50%) of government revenues to external debt payments each year
…"Total public debt measured 65.9 per cent of gross domestic product at the end of July, compared with 67.4 per cent at the same time in 2017. External debt totaled $18.2 billion, 54 per cent of the total $33.9 billion of debt, according to the Central bank data.
Ghana's sale of $2.2 billion worth of bonds to Templeton Hasenstab at a 19.75 percent yield cost according to Reuters will cost at least cost over $434 million yearly to debt service only this loan. Ghana has acquired several other loans and over $4.3 billion loans since 2017. Ghana will be the world's biggest sovereign issuance of 100-year dollar-denominated securities and the first African country should the deal be completed according to Reuters. Ghana's strategy is to raise capital by selling these debt as the first tranche of a $50 billion bond. Mensah thinks Ghana should limit its borrowing into oblivion and rather find ways to improve its GDP, by improving its Monetary and fiscal policies; implement genuine privatization policies & limit Ghana government involvement private business activities since all have failed including Cocoa industry; close down most of Public Private partnerships and or State Owned Enterprises since most are not profitability since last 30 years or at least they have failed to show five years consistent profitability.
Mensah would like to see President Nana Addo and his Vice issue an executive order to immediately investigate how Ghana can access this free $1.58 Billion Grant for Ghana's Educational fund. Ghanaian students and all Ghanaians will benefit; students will have more access to housing, water, electricity, internet, and educational materials, equipments that helps schools run better, buses, computer and more schools will be built. This will enable Government direct its efforts and funds to other priority projects. This GRANT will help government provide for better education when money is spent frugally and wisely. We all would agree good education helps empower students, gives them better opportunities in life and eventually can help them become productive citizens. Mensah team looks forward to engagements with top government officials to help make this free GRANT possible for all Ghana students although it may be too little too late.
Please share
By Dean Mensah
[email protected]
https://www.bloomberg.com/news/articles/2017-11-02/a-guide-to-the-19-5-bonds-ghana-can-t-get-yield-hunters-to-buy
https://www.reuters.com/article/ghana-bonds-hasenstab-idUSL5N1HC4QM
https://www.bloomberg.com/news/articles/2018-09-25/ghana-targets-10-billion-century-bond-sale-by-end-of-year
below for my education
https://www.ghanaweb.com/GhanaHomePage/NewsArchive/Stop-confusing-Ghanaians-2bn-bauxite-deal-is-a-loan-Minority-684019
https://www.ghanaweb.com/GhanaHomePage/NewsArchive/Government-targets-10bn-century-bond-sale-by-end-of-year-687944