Nandom DCE advocates some lesson period allotted for teaching hygiene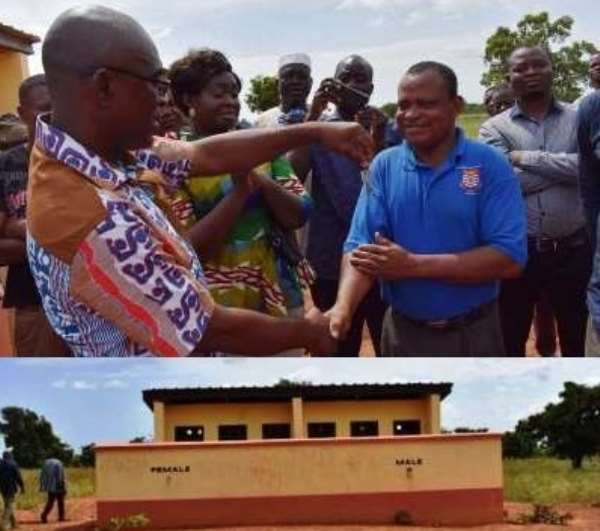 The District Executive of Nandom District, Mr Thaddeus Arkum Aasoglenang, has called on teachers in basic and second cycle institutions to commit some minutes of their lesson periods to teach students about basic personal hygiene.
This, he said: 'Will help promote good living in our homes and society at large,' adding, 'a sound mind can only dwell in a sound body'.
'It is therefore imperative to live a healthy and hygienic life in order to have a sound mind'.
Mr Aasoglenang made the call when he commissioned a Six-Seater KVIP toilet facility for Tuopare Junior High School in the Nandom District.
The project, which was funded through the District Assembly Common Fund, Cost GH¢ 35,000.00
He advised teachers and other stakeholders in education to ensure their students adopted a life, which would enable them carry out their academic exercises without any hindrance.
Handwashing is one of the best ways of ensuring personal hygiene, he added.
Mr Aasoglenang described open defecation as an outmoded practice, saying: 'In contemporary times, people are required to have places of convenience in their houses and not resort to the bush and other nefarious ways of defecating'.
The Head teacher of Tuopare Junior High School, Mr Lawrence Siekaa, expressed profound gratitude to the District Assembly for constructing the toilet facility for the School, which hitherto subjected the students to discomfort and inconvenience.
Mr Siekaa pledged that the School authorities would make sure the facility was kept tidy always as much as possible.
On his part, the Chief of Tuopare, Naa Beyuo III, said government had shown a lot of commitment to bringing development to the people of Nandom.
He noted that the toilet facility was one of the most pressing needs of the School, which has been duly met.
He expressed gratitude to the government for the several policy initiatives targeted at rural communities and farmers especially in rural communities.
GNA