Gratitude To President Akufo Addo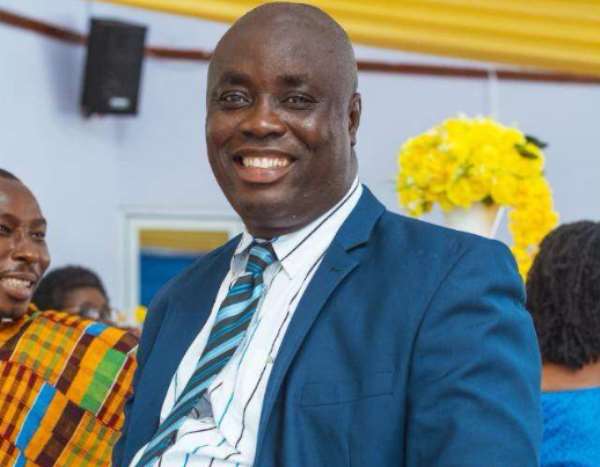 Kingsley Kofi Karikari-Bondzie, Newly Appointed Deputy CEO of Coastal Development Authority
First, I am most grateful to God for making the impossible, possible. God of Possibilities, I have no other than you.
You took me through all the vilifications and turbulence. Thank you for "letting your will be done in me"
I am extremely grateful to the president of the Republic of Ghana for appointing me to the high office of DEPUTY CEO, COASTAL DEVELOPMENT AUTHORITY. Uncle, thanks for the belief in me. Your magnanimity is beyond my imaginations and I pledge never to let you down.
My father, my uncle, my everything Hon. Kwamena Essilfie Bartels, God richly bless you. You have been a worthy mentor. You have fought and continue to fight for me. May the good Lord continue to bless you.
To the Central Regional Chairman, Mr Robert Kutin Jnr. Old Soldier, I am equally grateful to you. The entire regional executive committee of the New Patriotic Party, Central Region for showing love to me.
My gratitude extends to my brothers: Gabby, Nana Bediatuo, Francis Asenso, Kow Essuman and Miss Humu Awudu.
To my pastors: Prophet Enoch Essel ( IPPM), Prophetess Elizabeth Akua Abban of Emmanuel Prayer Camp, Pastor Julius, Evangelist Kwesi Ntim, the pastor and Congregation of Good Shepherd Methodist, ASEBU, I say thank you for your prayers for me.
The king of Asebu, Okatakyi Dr Amanfi VII and his Divisional Chiefs, the good people of Asebu, Abura and Kwamankese District.
To the CEF and AAK GRASSROOT as well as the grassroots of our party across the length and breadth of our party. I would never let you down.
This appointment is for you the ordinary people of our party as well as the people I call family; Jeff, Sly, Yaa Dee, Peter, Sarah, Ike Dick, Franklin, Sammy Dawoe, SPG, YPC, Kofi Arthur and Kwame Addo. A long list that I can't mention all.
You stood by me through all this and I haven't forgotten your role in my life.
To the membership of the Central Executive Forum, your show of love is awesome. God richly bless you all. To all the constituency Executives in Central Region. Thanks for having faith in me and your massive show of love. To the MPs and MMDCES of Central Region, I love you all.
MY BIOLOGICAL FAMILY
May the Almighty God bless you for the supporting role you have played and for your enduring spirit. My lovely Wife, Maggi and Children are most grateful to you for your support.
MFANTSIPIM FAMILY
I have built a family here. Saying goodbye would be the saddest and most emotional part of this whole business I am not an old boy, but I have helped produce old boys. I see this place as home. A comfortable home and a good family. The Staff Members, the students, the leadership of the school, this is a home I can never detach myself from. I can't be a former tutor here. I remain one of you till I can't climb the Kwabotwe Hill. I will continue to support the Civil Society Club as well as the Sports and other activities of the School.
To my brother Sammy Dawoe, "You won't be lonely. And that is my word. You have shown me real family since 2002 and I can't leave you behind.
THE GOD I SERVE
I have gone through a lot and have learnt a great lot. There is a God somewhere, maybe up above the skies or with us on earth. Trust in him. He will never fail you. He makes everything beautiful at the right time. Trust him always and let his will be done in you.
TO THE PARTY SUPPORTERS OUT THERE
Politics is a complex business, it is enduring and it is an opportunity to serve. Opportunity to serve our party, our country and her citizens. Let *PATIENCE* be your middle name. Yes, we can be down sometimes, we can be disappointed and discouraged but if we keep our balance and focus, our time will come.
This appointment won't change my relationship with the grassroots. I will continue to be with you on the ground without compromising my duty to my new workplace.
It is the duty of those who are privileged to be appointed to create space for those without an appointment to get their own levels of appointment. Together with my Colleagues, we won't let you down on this.
Finally, I know the huge expectations of our coastal belt. God be my helper I will work with the CEO, other colleagues as well as the Board and Ministry to bring the needed Development to the people of the 4 regions.
I have seen fishermen struggle for a catch as well as citrus farmers abandon their farms, I have seen cassava get rotten in the bush as well as cocoa and other crops rot. I have seen lots of our folk's struggle get basic things to make a living. I pledge to work with the team to lessen the plight of our people and leave a legacy for generations to come so help me God!
KINGSLEY KOFI KARIKARI-BONDZIE
(ASEBU)