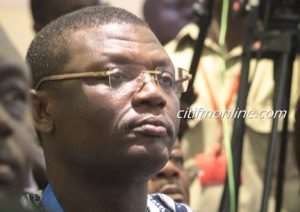 National Organiser of the opposition National Democratic Congress, Kofi Adams, has described government's Nation Builder's Corps (NABCO) as a repeated initiative.
According to him, the initiative will deplete the country's resources.
Government introduced the NABCO initiative as part of its commitment towards addressing the high youth unemployment in the country.
Already, 100,000 recruits of NABCO have successfully passed out today, Wednesday, October 17, 2018 in Accra.
But speaking on Citi TV's Breakfast Daily, Mr. Adams maintained that NABCO should have been run under already existent systems like the Youth Employment Agency (YEA).
"Why the rush in changing and renaming things? This is creating its own bureaucracy and wasting so much. That is my worry. Aside from the worry of these professionals who feel that there is space and opportunity, this is bureaucracy that is taking so much from our coffers."
NaBCo programme is unsustainable – Ade Coker
The Greater Accra Regional Chairman of the opposition National Democratic Congress (NDC), Ade Coker, has also said the programme is unsustainable.
According to him, jobs to be provided under the programme are momentary, and will not enable young people to build a career nor address the challenge of unemployment in the country.
He stated that the youth to be employed under NABCO would go back to be jobless after a short period because the jobs NABCO is offering are not permanent jobs.
"We have been here before; these jobs are not sustainable jobs. How long are these youth going to have their jobs for? The youth should be offered jobs that will last for a very long time, jobs they can build their careers on. Let's get the youth serious jobs for once." he said.
NABCO will succeed – Nana Addo tells critics
President Akufo-Addo on Wednesday hit back at critics who downplayed the impact of the Nation Builders Corps (NABCO) initiative.
Nana Akufo-Addo says the initiative will go a long way to partly address the current unemployment situation in the country.
He is optimistic the country will benefit from the talents of the NABCo graduates.
"As has become the norm with every bold initiative proposed by this administration, this programme, predictably, was not only ridiculed in certain quarters but also met with pessimistic and cynical comments with some going to the extent of urging graduates from our nations tertiary institutions not to register for the programme. In NABCO, we have planted the seeds of growth and future of our country. I am in no doubt whatsoever that NABCO will succeed," he added.
What is NABCO about?
NABCo was launched in May 2018.
It runs under six modules namely Educate Ghana, Revenue Ghana, Heal Ghana, Enterprise Ghana, Digital Ghana, Feed Ghana and Civic Ghana.
President Akufo-Addo introduced the Nation Builder's Corps as an alternative job creation opportunity for the country's jobless graduates.
The programme, which will be managed by the office of the President, will focus on alleviating shortfalls in public service delivery.