Acting UE Regional Minister Commended For Open Door Policy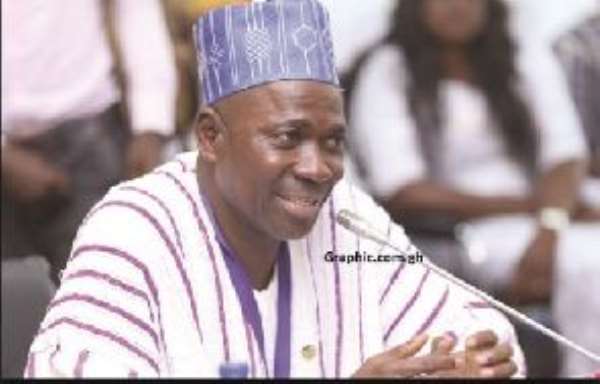 The Upper East Acting Regional Minister, Mr Frank Fuseini Adongo, has been commended by some indigenes and political party faithfuls including some people from the other political divide for operating an open door policy in the region.
" The Acting Regional Minister doesn't discriminate in accepting the suggestions and opinions of others in the administration of the region provided such suggestions and opinions are laudable and positive to the development of the region", the groups remarked.
The groups indicated that the region which is lacking behind in certain areas needed such a right calbre of leaders who allows everybody irrespective of their political affiliation to contribute in bringing the needed ideas resources to the Region to deliver the vulnerable from , sickness poverty, illiteracy, conflicts.
The people also described the Acting Regional Minister who is also a Member of Parliament (MP) of the Zebilla Constituency in the region as somebody who had worked very hard with the Regional Security Council to promote , maintain peace and security in the region.
Speaking to some groups of Journalists here on Thursday, the former Upper East Regional Second Vice Chairman of the New Patriotic Party (NPP), Mr. Isaac Atasige, mentioned that one of the major setbacks to productivity in the country is lateness to programmes and work.
He stressed that apart from the Acting Regional Minister succeeding in changing the negative trend in the region by his time consciousness to programmes and functions, he also leads the Regional Coordinating Council to undertake effective monitoring and supervision to ensure that many citizens benefited from government's programmes and policies.
"Since the former Upper East Regional, Mr Rockson Ayine Bukari, handed over the administration of the Region to Mr Frank Fuseini Adongo, the Deputy Regional Minister, to assume his new position as Minister of State at the Presidency , `Mr Adongo has demonstrated his full potentials to the development of the region", he indicated.
Another NPP activist , Mr Mubarak, , stated that Acting Upper East Regional Minister , was somebody who was youth, women and disability groups friendly and always created the platforms for such groups to express their grievances, concerns and opinion concerning the development of the area.
Mr Mutari attributed the cooperation and the support enjoyed by the Acting Regional Minister to his openness , frankness and good human relationship and appealed to other political leaders in the country to emulate the shining works of the Acting Regional Minister.
In another development, the MP had also been commended by the Zebilla constituency for contributing significantly in the areas of the provision of equipment for the health and the education sector including the sponsoring of many students in tertiary institutions.