UEW Co-operative Credit Union Making Huge Economic Strides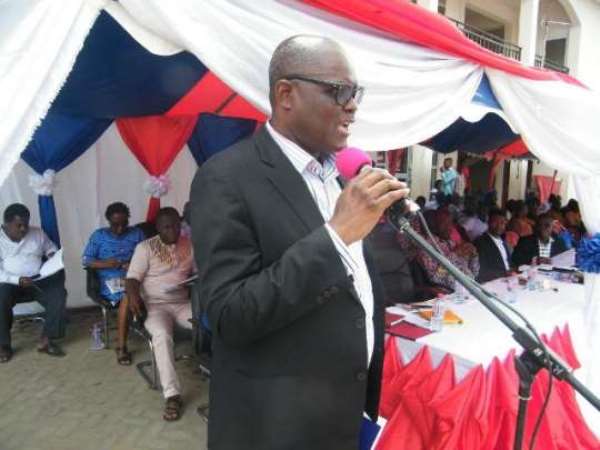 The University of Education Winneba (UEW) Co-operative Credit Union has made a net surplus of GH¢905,888.76 as at June ending 2018 representing 56 percent increase against GH¢581,971.97 in the same period in 2017.
Mr. Steve V. Kamassah Chairman of Board of Directors of the Credit Union disclosed this at the 18th Annual General Meeting of the Union held at Winneba.
He announced that the Credit Union was able to pay interest of GH¢530,157.39 in 2018 on its members savings as compared to GH¢461,779.54 paid in 2017, depicting a progressive rise of 15 percent.
He disclosed that, the Union's total assets increased by 49 percent within a year, growing from GH¢8,886,213.36 in 2017 to GH¢13,202,498.68 in 2018 while member's savings also grew from GH¢6,549,418.45 in 2017 to GH¢9,538,934.01 in 2018 an increase of 46 percent.
'The Union has investments forming 32 percent of its total asset in conformity to meet Bank of Ghana's requirement of a Minimum of 20 percent, (this translate to GH¢4,253,852.24 against GH¢2,990,623.28 in 2017'.
On loans, the chairman said, an amount of Gh¢10,980,818.56 was disbursed to members in 2018 representing an increase of 91 percent against GH¢5,746,122.67 in 2017.
He disclosed that, as part of the Union's Cooperate Social responsibilities, they donated three pieces of Cooler Box (Ice Chest big sizes) and four bags of Poultry feed to the Effutu Municipal Assembly as their contribution towards the 33rd farmer's Day celebration as well as donating dustbins, rakes, wheelbarrows and pickaxes to Mampong Garages Association.
According to Mr. Kamassah, in spite of frequent withdrawals by some of the members, they made significant strides in building its investment base after having satisfied member's loan demand.
He said the board also proposed a 25 dividend on shares to encourage members to capitalize the Union of which the entire members agreed upon.
According to him, on June 30, 2018, members with minimum shares were 3,034 and total shares for them is GH¢1,221,111.47 representing an increase of 102 percent over the previews year's shares of GH¢605,308.91.
He commended members who had bought more shares during the financial year, saying the Credit Union Law LI 2225 (2015) indicate that all Credit Unions are to do business with members with minimum shares of GH¢100.00 only and appealed to members with less than the stated minimum shares to buy more shares to meet the said requirement.
'The Union would not have achieved such success without the magnanimity of the management of UEW who have been supportive to the union, of which we deeply appreciate such support and call for their continuous support, confidence in the union and the leadership', he stated.
Rev. Father Professor Anthony Afful-Broni Vice Chancellor (VC)of UEW said in a speech read on his behalf that, there as management of the university, they acknowledged the various roles the members of the Credit Union played to sustain it.
According to the V.C, the Credit Union commenced with a mission to provide efficient financial assistance to its members, and indeed 'you have lived to the tenet of a cooperative as enshrined in their core existence' and as a result it, you have shouldered the financial burdens of staff of the university particularly when they have to pay school fees and rents as well as in difficult times.