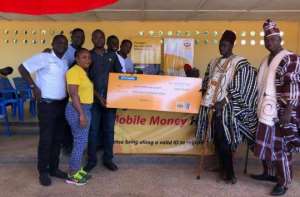 Mobile telecommunication giant MTN Ghana has presented a cheque for GH¢7,000.00, drinks hamper and assorted MTN souvenirs to support the Kobine Festival celebration by the chiefs and people of Lawra traditional area in the Upper West Region.
Officials of the leading Ghanaian teleco also gave out MTN recharge cards valued at GH¢ 500.00 and supported key activities of the festival including; a grand durbar, inter community football gala and Cultural Heritage Day among others.
The theme for this year's celebration is: 'Uniting for the Development of our Municipality through Culture and Quality Education'.
Mr Nii Adotey Mingle, the Northern Sector General Manager of MTN Ghana, who made the presentation ahead of the festival climax commended the chiefs and people for showcasing their rich and diverse cultural heritage that nurtured peace and unity.
'We congratulate you all especially, Naa Puewele Karbo II, [Paramount Chief of Lawra Traditional Area] on this special and memorable occasion as you seek to showcase your rich and diverse cultural heritage while fostering peace and unity among your people.
'We are also happy to support this and other festivals because it gives us the opportunity to showcase our rich culture and help in promoting domestic tourism'.
Mr Mingle acknowledged contributions of the people of Upper West to the growth and success of MTN as the top telecommunication company in the country.
'MTN acknowledges you our traditional leaders as key development partners contributing not only to the growth of our business but the nation at large,' he said.
He expressed the hope that the relationship between MTN and the chiefs and people of Lawra that had been nurtured close to a decade would further deepen.
In addition to the contribution, MTN also promoted various life enriching products and services on its network including Sunday Special, MTN Jara, Magic Number, Akwaaba Promo, EVD Promo and Mobile Money services.