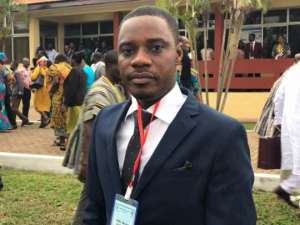 Shama (WR) Oct 13, GNA - The Shama District Assembly in the Western Region has been selected by the Ministry of Finance as one of the pilot districts for the implementation of the 'Tree project' a revenue mobilisation project.
It is aimed at helping assemblies to improve upon their internal revenue collection.
Mr Joseph Amoah District Chief Executive, who announced this during the 6th ordinary meeting of the third session of the assembly at Shama said the process had begun in earnest and a test run of the system had also taken place in the Ituma township.
According to him, the project which is expected to provide the assembly with a software would be used to store data, generate bills and facilitate electronic payment aside the regular cash collection by the revenue staff.
He said the project required the use of a third party which was a mobile network service provider to facilitate the electronic payment aspect, adding that the project contract was for the period of two year, which the assembly would have to pay the service fees electronically.
Mr Amoah said the assembly was to Choose the service provider for the project and also renew the contract after the expiration of the initial two years contract,' as an assembly, we are also required to choose between '' e-Transact'' or ''Slide pay'' payment system for the exercise''.
The DCE said though the assembly had a lot of revenue potentials, it was not doing well in its IGF and stressed that with commitment and dedication, it should be able to mobile enough funds to perform its mandate.
On Education, Mr Amoah said the member of Parliament spent a total of GH¢20,979.00 as scholarship grant on 16 tertiary students and that from January up to date the assembly also spent an amount of GH¢62,600,00 as scholarship grant for73 tertiary students and 18 second cycle students.
He said there were examinations on going in all the zones in the district to select the best students for the district level zonal examination and prizes would be awarded to students who excel comprising; television sets, standing fans and wax prints.
Mr Amoah said the Non formal education Division has embarked on community entry for the complementary Basic Education Programme which would target out of school children from eight years and above in fulfilment of the NPP Government's policy of ensuring that all children have access to education.
The DCE hinted that the Ministry of Transport would soon introduce the Rapid Bus Transit System in the district, expected to ease, provide decent, timely, reliably and affordable transport services to the people in the district.
For his part, Mr Percy Ahenawah the Presiding Member expressed concern about the excessive noise made by some churches in the district and tasked the Environmental Health Officers to be up to their task and check on the unnecessary noise makers in the district and if possible ban it.