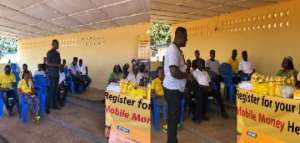 MTN, one of the leading telecommunication companies in Ghana, has invested GH¢37 million in 142 projects across the country as part of its contribution to efforts at improving the quality of life of the people.
Nii Adotey Mingle, its Northern Sector General Manager, said the investments were in the areas of health, education and economic empowerment.
These are estimated to have benefitted about four million people directly and indirectly.
He announced this during the 'Kobine Festival' celebration, held in Lawra.
The theme chosen for this year's event was 'Uniting for the development of our municipality through culture and quality education'.
Nii Mingle said 'just recently MTN Ghana Foundation provided scholarships to 100 students nationwide to pursue their first degree,' and added that eight of them were from the Upper West Region.
Two teachers from the region were enjoying a similar scholarship package.
'Next year we will give another set of 100 people an opportunity' he hinted.
He expressed thanks to the people for the support given to MTN when the company launched its Initial Public Offering (IPO) early this year, which ended successfully - now being listed on the Ghana Stock Exchange.
Naa Puowele Karbo III, the Paramount Chief of Lawra Traditional Area, said quality education was vital to the development of every society - a vehicle for achieving skills, knowledge and entrepreneurial capacity building for the youth.
He complained about what he said was the falling standard of education in the municipality.
'The declining standard of education in our municipality over the years has been a major challenge to our development, which needs to be tackled hands on.'
He said the abdication by many parents of their responsibilities towards the education of their children combined with the lukewarm attitude of some chiefs and community leaders to school management needed to change.
He called for all stakeholders in education to accept to play their expected roles well to enhance academic performance.