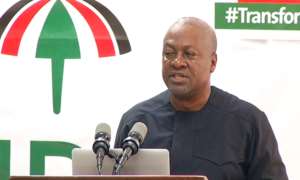 Former President John mahama
Two political analysts have belittled the weight of an alliance of five presidential aspirants in the National Democratic Congress (NDC) against the chances of former President John Mahama.
Pollster, Ben Ephson, and Political Science Lecturer, Dr Kwame Asah-Asante, both said on Top Story on Joy FM , Friday that the former President's chances to lead the opposition party in the 2020 general elections will not be scathed by the alliance of his lesser-known contenders.
Ben Ephson, for instance, believes the coalition that includes former Trade minister under the Mahama administration, Dr Ekwow Spio-Garbrah and former Deputy Finance Minister and MP for Cape Coast South, Kweku Ricketts Hagan may rather highlight the chances of John Mahama ahead of primaries in December 2018.
Sylvester Mensah had confirmed the meeting by the 'Gang of Five' in an interview on Joy News' late evening analysis show PM Express Thursday.
He would not name the other four but said they have a common understanding that the party needs to have a different presidential candidate for the 2020 general elections.
"The problem within the 'Gang of Five' is who they will have to accept as the number one in case they win and who will be the running mate," Mr Ephson predicts.
Dr Asah-Asante also suggests that the impact of the said alliance of five would have been greater had it been an inter-party contest.
"There are considerations for internal party elections. If you want to select a candidate for the next election, the variables are a little different from the national one. [Mahama] should not be worried at all," he said on Top Story.
He added: "Another variable that we can also look at is whether the candidate is sellable or not. And by sellable we are talking about what type of candidate do we need to match our main opponent in the next election."
Dr Asah-Asante suggested Mr. Mahama remains the most sellable candidate.
-Myjoyonline