Polio Immunisation To Start In November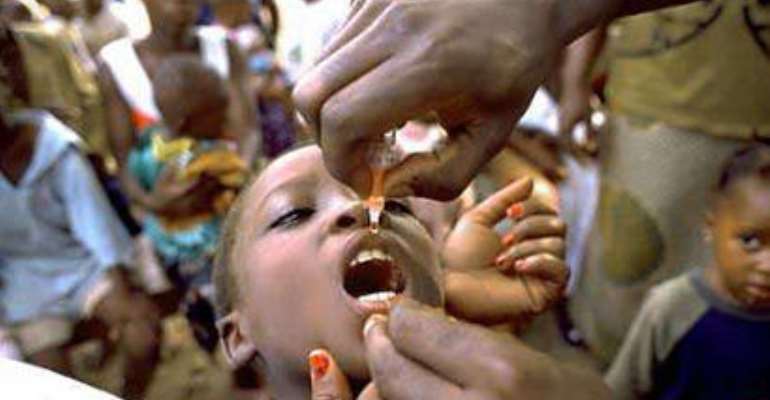 Health authorities in West Africa have shifted this year's first round of the annual National Immunisation Days (NIDs) programme for the eradication of poliomyelitis in the region from October to November.
This is to ensure the full participation of and co-operation from the large number of Muslims who are observing the Ramadan fast this month.
At a press briefing organised by the Ministry of Health (MOH) and the Ghana Health Service (GHS) on the National Immunisation Days (NIDs) programme in Accra yesterday, the Expanded Programme on Immunisation (EPI) Programmes Manager,Dr Antwi Agyei said,"that is a way to get everybody involved".
The first round of the programme, which is scheduled for between November 9 and 13 will have additional Vitamin A supplement.The second round is to take place between December 9 and 11,2005.
Dr Antwi Agyei explained to the Daily Graphic that the religious rights of Muslims were taken into consideration, since some of the volunteers were Muslims who could not move around with ease to administer the vaccines while fasting.
"It will also not be appropriate for the volunteers to inconvenience our Muslim brothers and sisters while they go through religious rites in their homes,"he said.
On NIDs,all children under five years are expected to be visited by volunteers to administer oral polio vaccines (OPV) to protect them against poliomyelitis,which can paralyse or even kill a victim.
He said Ghana had made progress in the eradication process, since the country had not recorded any case of wild polio virus since September 2003.
He, however,said Ghana was still at risk because there were cases of wild polio virus in Nigeria,Benin Burkina Faso and Cote d'Ivoire.
"This is why all efforts should be made to encourage each of the countries to fully participate in the eradication programmes. Polio knows no boundaries," he stated.
Dr Antwi Agyei commended the Japanese government,the World Health Organisation (WHO),the United Nations Children and Education Fund(UNICEF) and development partners for supporting the government of Ghana in the annual polio eradication programme in terms of financial and logistical support.
He appealed to the ministries, departments and agencies (MDA) and more especially the district assemblies to also support the volunteers who work in the communities in any possible way,since the programme was a national one.
The UNICEF Country Representative in Ghana,Madam Dorothy Rozga,commended Ghana for its successes in polio eradication,adding that "this is a national achievement and a great source of pride for Ghana,which is taking the lead in the West African bloc".
She said,however,that the nation's positive strides were threatened in 2003 when eight cases of the disease were reported.