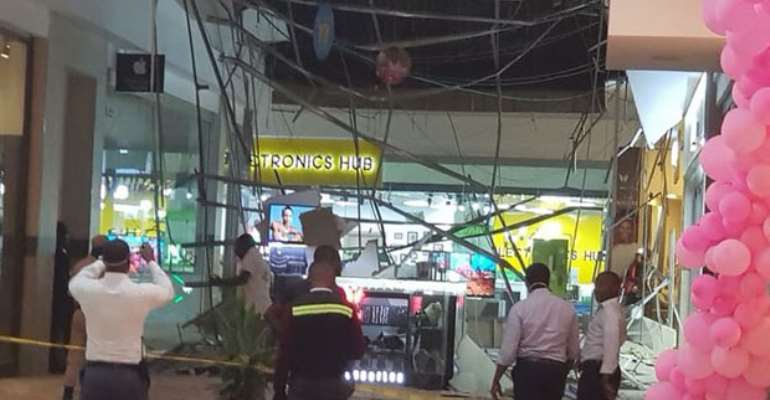 In a city or country not used to disasters such as others where the Hurricane Michaels, Catrinas and others strike at will and with devastating effects, the Accra Mall near shave with a major tragedy was an apt wakeup call.
When word spread, very fast indeed, courtesy social media and FM stations that a segment had caved in at the Accra Shopping Mall, it was received with apprehension; the thought of the Melcom disaster in Accra rushing to mind uncontrollably.
President Akufo-Addo has expectedly expressed concern about the accident and the poor maintenance culture which is our nature. We too hereby wish to express worry about what happened and to demand that a report from the audit of the place be released for the attention of the relevant authorities and indeed the rest of us so all Ghanaians will learn the important lessons thereof.
While we do not intend jumping the gun and thereby compromising the outcome of the said audit, suffice it to point out though that we are a country with little or no maintenance culture as the President rightly observed albeit rather subtly. Were our country to be close to an earthquake zone and therefore prone to the force majeure, we would have contended with disturbing stories.
We have learnt nothing from previous accidents because the reports are out of our reach.
To date, we do not know what happened to the report from the investigation on the Melcom disaster.
We appreciate the update from the management of Accra Mall regarding what is being done to determine what went wrong. We would wish to add though that the audit should be expedited and the report made public.
We should, as a nation, take public buildings accidents seriously so lessons can be learnt which can help obviate future recurrence. Had the Shopping Mall accident gone beyond what was recorded, the stampede that would have followed would have been very serious.
Was the Accra Shopping Mall accident avoidable and what measures should be taken to prevent a recurrence? If it is indeed standard practice to carry out periodic inspection of structures to ensure public safety, has that been the case with the subject under review?
Were the necessary drills undertaken when the ceilings came crashing and even injuring some shoppers? The Ghana National Fire Service (GNFS) is more primed to deal with such queries and we expect that they would do a good job. Whatever report emanates from such an audit, it is our hope that same would not be tucked away on a dusty shelf at the Interior Ministry with no action taken.
Let us take the subject of maintenance more serious than we are doing currently so the likes of what happened at Melcom and lately Accra Mall do not recur. Although there were no fatalities safe injuries, it could have been worse. Indeed it was a close shave for which we should be thankful to God.