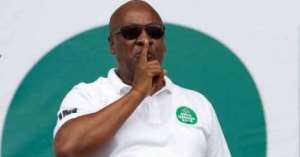 Former President John Mahama says life under the governing New Patriotic Party is "super hard" compared to his time.
The ex-president, who is running to lead the National Democratic Congress (NDC) into the 2020 polls, says the NDC cares about Ghanaians and that economic activities flourish when the NDC is in power.
He made the comments when he was addressing constituency delegates and some supporters of the party at Garu in the Upper East Region as part of his campaign to lead the party as flagbearer in the 2020 polls.
He said: 'NDC has proven to be a party that cares about the people, that has undertaken massive development for our people and under who prosperity and economic activities flourish.
"They say when we were in power life was hard and I say that today life is super hard. Any Ghanaian will attest he was better off under the NDC than he is today under NPP.'
"Theorist economists"
The former president had earlier branded the government's economic management team as "theorist economists" who do not understand governance.
Speaking in the Northern Region last week, he said his party has what it takes to manage the economy better.
...that is what economics lecturers who are just theorists can come and lecture but they don't understand that the practicals of running governments is completely different.
"NDC has done it before, at any time that NDC has been in government, this country has made progress,' he said added.