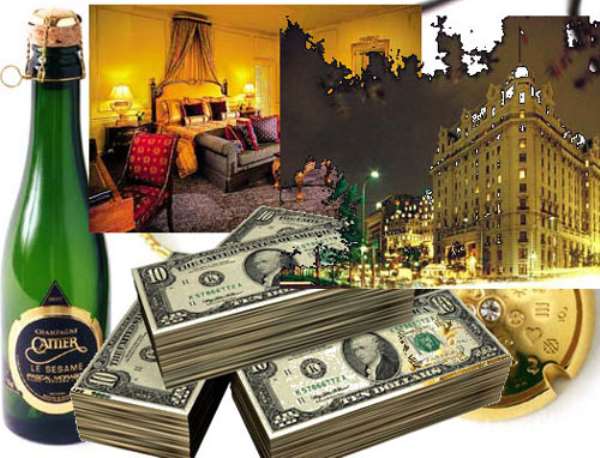 ....of Kufuor & Ministers' lavish spending Accra, Oct 28 2005 -- Presidential Press Secretary Kwabena Agyapong has rubbished a newspaper report that President Kufuor and his delegation to the US are living in luxury in one of the most expensive hotels in Washington DC. A report in he Enquirer newspaper entitled Kufuor, ministers' blow cash in USA, stated that "hotel Willard Continental, is considered a one of the most expensive hotels in the United States located only two blocks away from the White House on the Pennsylvania Avenue". According to the paper, the suite where the president is lodging costs between 1,200 and 4,200 dollars while meals cost about 165 dollars a day.
The President's press secretary says all these are false.
" This is disgusting and preposterous for a newspaper to suggest that the President and his ministers are spoiling themselves. If they knew the kind of hectic schedules that we have to go through on some of these presidential visits, they will not be saying some of the things that they are saying.
I think its part of the general attempt being deployed to try to present this government as sleazy. This is political journalism, let them carry on. This is a serious government and we are focused. We know that the good people of Ghana, in fact majority of the people of Ghana recognize that this government is doing its very best for our country Ghana," he said.
Following up on the report of extravagant spending by the President and his team, JOY FM's reporter Kofi Abotchie, who is on vacation in Washington, visited the Willard Continental and says there is nothing extra ordinary about the hotel.
" I went there to interview the President with a colleague but ended up speaking with foreign minister, Nana Akuffo Addo.
Entering the hotel I realised that there is nothing extra ordinary about the hotel. I have been to some other hotels in the US especially in Washington and the standards are not too different.
Probably what may be special about this hotel is its proximity to the White House. So there isn't much that people could talk about the hotel that is extra ordinary," he said.