US 'terror' listing blocks Sudan's economic revival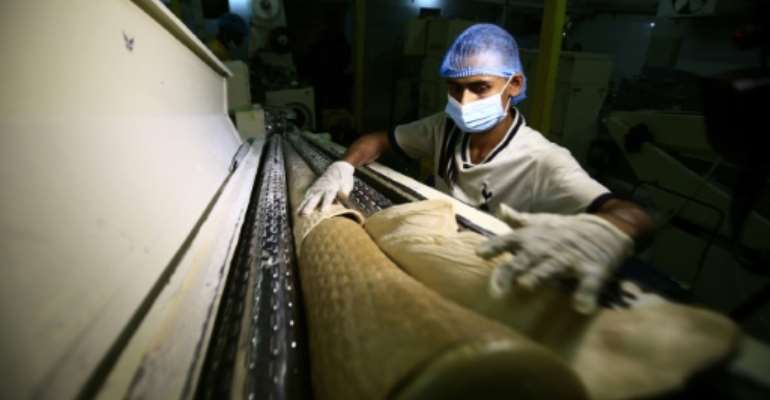 Sudanese businessman Samir Gasim was delighted when Washington dropped sanctions against Sudan a year ago, but since then, mounting losses have forced him to lay off dozens of workers at his Khartoum factory.
"We are now operating our factory for only eight hours, compared with 24 hours before," said Gasim, a food and drinks manufacturer.
Many expected Sudan's crisis-hit economy to recover after the US dropped a tranche of decades-old sanctions on October 12 last year.
But businessmen say Washington's decision to keep Khartoum on its list of "state sponsors of terrorism" has doused those hopes.
"Our production costs increased and that forced us to lay off many employees," Gasim said.
Hundreds of factories have shut across Sudan, he added, as workers in masks and gloves packed sweets into plastic bags at his facility on a dusty Khartoum industrial complex.
Even while legal impediments to doing business with Sudan have been removed with the dropping of sanctions, officials say international banks, global financial institutions and investors remain wary of making commercial transactions with the country due to the US blacklisting.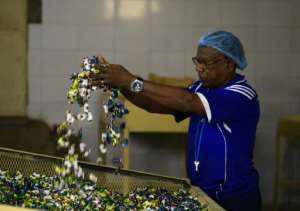 A worker hands sweets at a food and drinks factory owned by Sudanese businessman Samir Gasim, in the capital Khartoum on September 20, 2018. By ASHRAF SHAZLY (AFP)
Osama Daoud Abdellatif, head of the Dal Group -- Sudan's biggest conglomerate -- said there were "lots of funds looking for good projects to support".
"The problem is they are restricted," said the 67-year-old head of the $1.5 billion group, which has interests in everything from farming to real estate.
He said the US blacklisting prevents entrepreneurs from accessing global resources, holding back Sudan's recovery from a long-running economic downturn.
"It is in the interest of Washington and Khartoum to get over this big hurdle," he told AFP at his lush green golf course on the outskirts of Khartoum.
"Unfortunately, so many times the US changes the goal post, so it's been difficult to reach a final solution," he said in English.
Washington blacklisted Sudan in 1993 over its alleged links with Islamist extremists, and in 1998 it struck Khartoum with cruise missiles.
Al-Qaeda founder Osama bin Laden lived in Sudan between 1992 to 1996.
'Missed opportunity'
Sudan's economic crisis has worsened since January, making long queues for fuel, bread and other basic items a common sight on the streets of Khartoum.
The country's US blacklisting has directly caused foreign currency shortages as foreign banks avoid transactions with Sudanese counterparts, compounding the crisis.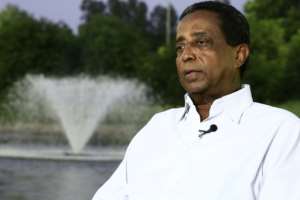 Osama Daoud Abdellatif, head of Dal Group, Sudan's biggest conglomerate, speaks during an interview with AFP at his golf course in the capital Khartoum on October 10, 2017. By ASHRAF SHAZLY (AFP)
Sudan's economic growth averaged over six percent a year during the decade to 2008, but it has since flopped.
The crisis has accelerated since 2011, when oil-rich South Sudan won independence from Khartoum, dealing a blow to the north's crude sales and foreign exchange reserves.
Burdened with foreign debts worth about $55 billion, Sudan's economy grew 3.2 percent in 2017, according to the International Monetary Fund.
Food prices have more than doubled since January as inflation has hit almost 70 percent, triggering sporadic anti-government protests.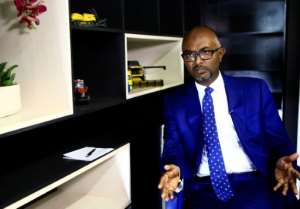 Ahmed Amin Abdellatif, president of Sudan's CTC Group, speaks during an interview with AFP at the group's headquarters in Khartoum on October 1, 2018. By ASHRAF SHAZLY (AFP)
"The trade deficit is 60 percent, which is huge, and this is directly reflected in the devaluation of Sudanese pound," said Ahmed Amin Abdellatif, president of the CTC Group, another conglomerate.
Removing the country from Washington's blacklist would be a signal that overseas investors can "now support Sudan", he said.
But the Dal Group chief said the country's economic woes were not Washington's doing alone, as Sudan itself "missed an opportunity" to promote growth when it enjoyed an oil bonanza.
"I think we could have done more in the agriculture sector from the income we were enjoying from oil," he said.
US push
Once a major exporter of agricultural products, Sudan now imports millions of tonnes a year of wheat and other grains.
It still has some 120 million head of livestock and reserves of gold and iron.
But Washington's top envoy to Khartoum, Steven Koutsis, told AFP the road ahead remains tough.
He acknowledged that the US blacklisting had restricted economic growth, but insisted that Sudan also made "bad economic choices over the years".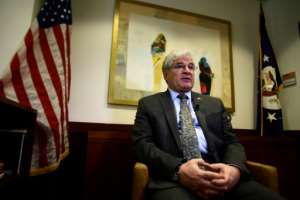 Top US envoy to Sudan, Steven Koutsis, speaks during an interview with AFP at the American embassy in Khartoum on October 10, 2017. By ASHRAF SHAZLY (AFP)
"From the US side, the biggest and the most important thing you can do is to get to a place where you can have Sudan removed from the list of state sponsor of terrorism," he told AFP at the US mission in Khartoum.
"Part of my agenda while I am here is to help Sudan meet the conditions" required, he said.
Dal Group tycoon Abdellatif said that in the meantime, Sudan needs to undertake big reforms on its own, like erasing disparities between the official and unofficial foreign currency markets.
"Only good words are not going to help people," the veteran businessman said.
"We have to find ways to support them. The last thing you want is hungry people."