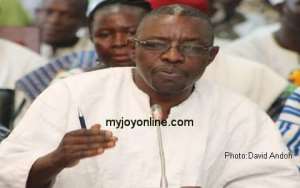 Avea Nsoh
The suspended Principal of the College of Languages Education at the Ajumaku Campus of the University of Education, Winneba (UEW), Associate Prof Avea Nsoh, in a recent release, spewed out falsehoods and concocted stories, as usual.
It must be put on record that, throughout his service in the public sector, Avea Nsoh has never accepted responsibility for any of his misdemeanours.
Several allegations were levelled against him during his brief tenure as Upper East Regional Minister under the Mills administration and as is typical of him, he categorically denied all those allegations. However, with the incontrovertible evidence before then President Mills, Avea Nsoh was thrown out of office as Upper East Regional Minister in the most disgraceful and inhumane manner, unseen in the political history of Ghana.
It is therefore not surprising that, this 'potato', who is best past his sell-by-date, has as usual, put out his weird and incoherent mutterings, into the public domain. Reasonable members of the wider public, would as usual, treat such garbage with the contempt it so rightly deserves; but for the benefit of those who know very little of this cartoon character, this write-up is aimed at setting the records straight.
Of the 19 charges leveled against Avea Nsoh, and to which he was invited by the UEW Governing Council to respond, Avea has, in his typical disingenuousness, not mentioned any! He has also failed to admit that he asked for 20 working days to enable him respond! Where is the justification for such ridiculous request?
Demanding that he be served his charges prior to appearing before an Investigations Committee shows Avea's lack of knowledge of UEW Statutes.
Requesting to be allowed to appear before a UEW Investigations Committee is another evidence of a so-called senior member of UEW who is totally ignorant of UEW Statutes! Pathetic indeed!
Let me offer a few of the charges leveled against Avea Nsoh, to which he is dancing in circles:
1. Avea Nsoh, through bad advice, and without recourse to prior approval from the Vice-Chancellor, approved and justified a letter of notification of the departure of Dr. Atintono for a Fulbright Fellowship in the USA.
When the matter of Dr. Atintono was brought before Management and Atintono was found to have vacated his post in obvious breach of the relevant laws, Avea Nsoh embarked on misinformation and vilification campaign, creating the impression that Dr. Atintono did not breach Article 20.2 of the Conditions of Service of Senior Members of the Public Universities of Ghana, and that, rather than a clear case of vacation of post, the University had intentionally sacked Dr. Atintono.
2. Avea Nsoh, has on several occasions, held meetings with staff and students of the College of Languages Education and incited them against the UEW Management over the vacation of post by Dr. Atintono and over court cases that had been brought against the University by parties external to the University. At any given opportunity of a meeting with staff and students, Avea Nsoh never ceased to roar against the current Management of UEW, as if he was not part of Management.
3. Without recourse to the Vice-Chancellor or the Ag. Finance Officer or consulting with other colleague Principals, Avea Nsoh, falsely misinformed students at the Ajumako Campus of a non-existent reduction in the Residential Facility User Fees and urged students to go for refunds by making a false reference to a non-existent similar case at the UEW satellite Campuses. Had it not been for the timely intervention of the Ag. Finance Officer and the College Accountant, the University would have been thrown into turmoil. Avea Nsoh was eager for students unrest, but was unsuccessful. What kind of Management person is this? Which institution will tolerate this odd behaviour?
4. Avea Nsoh absented himself from office/work and the Appointments and Promotions Board (APB) meetings for a whole week without prior permission and/or approval.
5. The former Ajumaku Campus College Accountant's response to a query raised by Avea Nsoh, ironically brought to light and levelled a number of serious indictments on Avea Nsoh on issues of financial impropriety and indiscretion. Indeed, the then College Accountant's responses to the said issues rather established a prima facie case against Avea Nsoh on his involvement in financial impropriety for which issues he must be made to answer.
6. As College Principal, Avea Nsoh operated on the misplaced and mistaken belief that he was independent of UEW Central Administration control and or direction from any superior authority. For instance, from the 2nd to the 8th of August, 2018, Aveah Nsoh, was absent from office. His absence was without permission or approval and Management only got to know about it when his presence at the discussion table was required.
7. As College Principal, Avea Nsoh, without any permission whatsoever, absented himself from the University's Congregation ceremony at which the Vice President, Alhaji Dr. Mahamudu Bawumia was the Special Guest of Honour! How disrespectful can a civil servant be???
These are but few of the charges brought against Avea Nsoh, and to which he is being invited by the Disciplinary Board of the Governing Council to answer. More coming soon!
Alhassan Salifu Bawah (son of an upright peasant farmer)