Parliamentary Service Board Inspects Ongoing Parliament Projects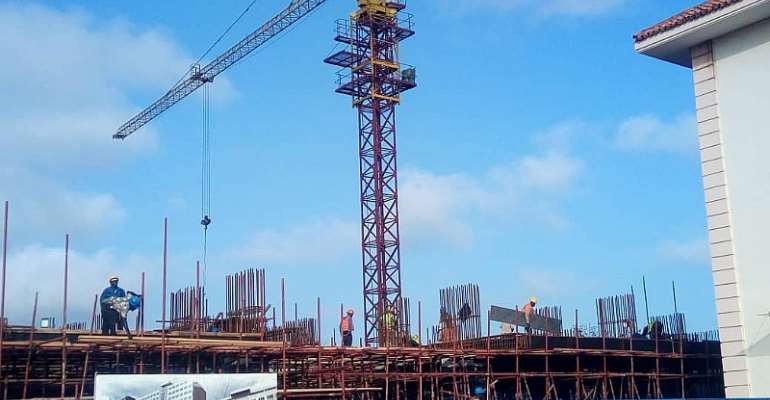 Parliamentary Service Board Inspects ongoing Parliament projects
Kwesi Coomson,Parliament
The Speaker of Parliament Rt Hon.Professor Aaron Ocquaye has led the Parliamentary Service Board to inspect an ongoing Parliament Physical Enhancement projects
The projects include the Job 600 Annex, an extension of the existing 600 tower.
Others include the Visitors and Drivers Lounge as well as the extension of the main Administration Block.
Welcoming the Parliamentary team, the Site Manager disclosed that Job 600 Annex will have a total of 54 Offices to accommodate Members of Parliament and Committees.
He said the Visitor's Lounge will have the capacity to hold over 200 visitors at a time, saying the Lounge will be equipped with an ultra- modern security equipment that will thoroughly scan all visitors before they enter Parliament premises
The Manager hinted that the Administration Block extension will have a dedicated mini auditoriums for both the Minority and Majority Caucuses to hold Press briefings.
"In addition to that, there will be a Media Archiving and Documentation Center for Parliament"
"There will be a Lounge for all Parliament Drivers as well" he added
Expressing his delight for the work so far, the Chairman of the Board Speaker Prof, Mike Ocquaye urged the contractor to expedite work to meet the agreed deadline.
Speaker Ocquaye noted that the Board has met with various Architects to solicit for advice on the need for a new Chamber Block.
He acknowledged the collaboration from government for the timely release of funds for the projects.
"The aim of these projects is to enhance the work of Members of Parliament as well as the Staff of Parliamentary Service "
These are steps which are aimed towards the establishment of Parliamentary enclave "Prof Ocquaye observed.
The Majority Leader Hon Osei Kyei Mensah Bonsu said the ongoing projects were long overdue due to the increased number of Members of Parliament and Staff of Parliamentary Service describing the move as in the right direction.
The Minority Leader Hon Haruna Iddirisu on his part noted that the completion of the projects will help both Members of Parliament and staff to dispense their duties effectively.
The Contractor assured the Board of timely completion of the projects to meet the agreed deadline