Nandom NDC On The Path To Victory In 2020 - John Mahama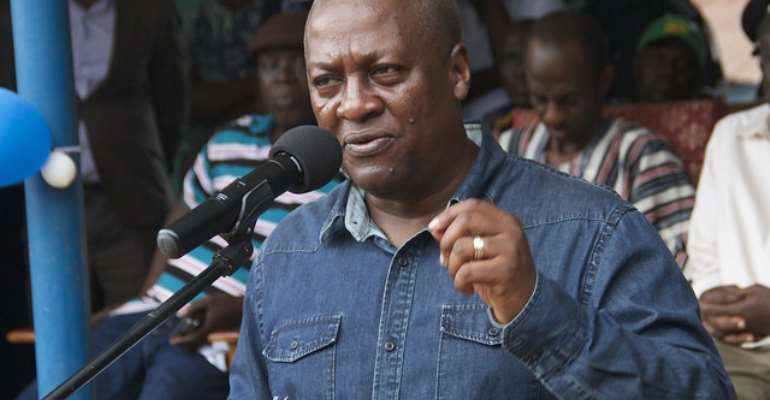 Our elders do say that he who preaches peace carries peace around. On Monday, 8th October, 2018, H.E John Dramani Mahama visited delegates in Nandom and delivered a message of peace to the good people of Nandom.
His one week tour of the Upper West Region was loudly and overwhelmingly received by the people in the region.
JM,s visit to the Nandom constituency was colourful and exceptional as delegates and other groups welcomed him with varieties of cultural display such as the "Bawaa Dance" and some other inspirational local songs composed by our vociferous regional communication officer and our constituency women organiser together with her women groups, that portrayed JDM as a peace loving person and the only candidate who has all it takes to win us power in 2020.
Party sympathisers, party loyalists and other persons stormed the venue with lots of excitement and joy to see JDM.
That was a loud signal the people sent to John Mahama on their unflinching quest to voting him as the next president of Ghana come 2020. It is abundantly clear that Ghanaians are fed up with the ruling government. Responsible citizens are unable to wait any longer for the return of JDM to power. He is a leader who can develop a practical sense of imaginative vision, rather than emotional corporeal vision and to advance the course of development in our country without discrimination. John Dramani Mahama has unmatched and uncommon leadership qualities.
His excellency, John Dramani Mahama could not hide his joy and happiness upon meeting delegates and former government appointees. His excitement came about as he saw signs of unity and togetherness between factions that were created during the primaries in the last election. This happened after the former MP, Dr. Benjamin Kuubour
said that the past has already passed and he has resolved to work with everybody to recapture power. When Dr. Kuubour was given the platform he said, "the past is past and we have resolved to work together to recapture power from the NPP". This statement of his attracted a very loud and long applauds from the delegates.
JDM therefore, excitedly expressed his immeasurable happiness over the resolution of the differences in the party in Nandom constituency as well as Lawra constituency. He unreservedly encouraged delegates to work hard so that we can collectively and in unison, take back power from the "super incompetent government".
After expressing his happiness, he told the delegates and the people around, the special relationship that existed between Nandom and the NDC. He said, "Nandom has special relation with NDC dating back in the days of the late Naa Polkuu who played pivotal roles in the establishment of NDC in Nandom". This statement brought more rejuvenation to the delegates and sympathisers of the party gathered.
Stating his reason for visiting Nandom, JM humbly and in all sincerity, told delegates that the power belongs to them hence his presence in Nandom was to present himself to the branch executives for votes as our flagbearer for elections 2020. "Power in the party is now transferred to the grassroot which is why I have come to present myself to the branch executives". This attracted an overwhelming exciting claps and some noise from the hall and outside as well. These are the indicators that are pointing to the fact that indeed, the grassroot is in dire need of the coming back of JM as well as winning back our seat.
Moving forward, John Mahama tasked delegates to vote for credible and competent candidate who has an untainted integrity and can win the 2020 elections resoundingly. He said, "as a party we must go into 2020 elections with a candidate who can win us power". He further pleaded with delegates to vote massively for him as flagbearer for 2020 elections.
His excellency John Dramani Mahama hastened to add that drivers are suffering, teachers are suffering, nurses, teacher trainees etc are suffering under the super incompetent government. "Ghanaians are experiencing super hardship under the super incompetent government".
He charged delegates, all party fatefuls and sympathisers to work hard to liberate Ghanaians from the super hardship we are in now. "We have a duty to work to save Ghana from the super hardship, the insecurity, the unwarranted dismissal of Ghanaians from their jobs because they are perceived to be NDC, the intolerance of the NPP government that is getting out of hand".
John Dramani Mahama further made a clarion call on this super incompetent government to complete the Lawra-Nandom-Hamile road which was commenced by the NDC government but has been abandoned by the super incompetent Nana Addo-led government. "Government should complete the Lawra-Nandom-Hamile road or we will fix it when the NDC wins the 2020 elections". He concluded by saying, "it is only NDC that gives Ghanaians proper peace and security".