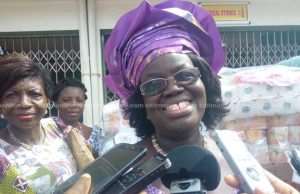 The Deputy Western Regional Minister, Gifty Eugenia Kusi, has said that government's decision not to build but rather facilitate the construction of factories by the private sector under the one district one factory initiative, is a sure a way to avoid the mismanagement that often characterizes state-run and state-owned agencies like the case of the Komenda Sugar Factory.
According to her, the NPP opted to collaborate with the private sector to build 1D1F because private businesses are effectively and profitably managed.
Speaking to Citi News, Mrs. Kusi, who is also the former Member of Parliament for the Tarkwa Nsuaem Constituency in the Western Region, said she is optimistic the factories will be constructed.
She said "if the government builds it, it will be like the Komenda Sugar Factory. That factory is what it is because it was built by a government. But if it was built by an individual; for example, you have your business and someone is lazying around, will you look on? We said we were going to help the private sector to build one district one factory".
Mrs. Kusi's comments come on the back of reactions that have greeted the Information Minister-designate, Kojo Oppong Nkrumah's comments to the effect that the NPP government did not promise to build the factories on their own.
Kojo Oppong Nkrumah said the NPP never promised to build a factory in each district by itself, as has been widely reported.
In setting the records straight, Mr. Oppong Nkrumah explained that what his party promised in its 2016 manifesto, was a private partnership.
He also said 18 factories have so far received accreditation and plans are underway to set up 50 more factories by the end of this year.
"The NPP's commitment is on page 43 of the party's manifesto, and I just want to quote it so that we know the premise on which we are working. In collaboration with the private sector, the NPP will implement the One District, One Factory initiative. Sometimes we come across people who make the argument that the NPP said it will build factories in all of these districts, but our manifesto commitment is clear for the avoidance of doubt."