Naa Dasana Andani Yakubu, A Definition Of Humility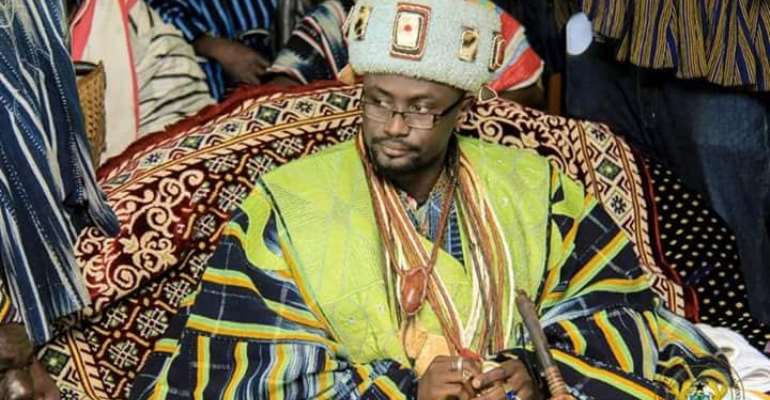 Few days ago, I turned on my television and saw His Royal Majesty, the regent of the Nanung traditional area, Naa Yakubu Andani Dasana. He was giving a press statement on Sagani TV, and among the guests seated in front of him was the Regional Minister. Then, quickly, I recalled our days back at senior secondary school - I deliberately don't want to use SHS - in our sophomore year. A fine gentleman had just walked in and introduced himself to us as our Social Studies teacher, his name was Master Salifu Saeed aka apor man Zimmerman. Amongst us students was Dasana Yakubu Andani.
Watching the press release, I could only imagine the turn of events. A student - master relationship has now turned into a 'King' and 'son' relationship. 17 years ago, it was the master(now minister) talking and the student(now Regent) listening attentively. But today, as I was watching, it was the reverse. Per customs and traditions, the minister has become the son of the King as he is from the Nanung traditional area.
You may be wondering why I am writing this. The core of this piece is to touch on the subject of humility of the King.
Maybe, some knew who Dasana was but I didn't know him beyond the boundaries of the class room. I only discovered his status after we had completed Senior Secondary School (yes, another deliberate intention).
Ralph Washington Sockman, senior pastor of Christ Church in New York, once said, "True humility is intelligent self respect which keeps us from thinking too highly or too meanly of ourselves. It makes us modest by reminding us how far we have come short of what we can be."
The above quote is what strengthens my respect for the Regent of Nanung. Never for once, in our days in school, had he ever mentioned to anyone about his status. He was a down-to-earth and jovial person.
And, even today, having reached this status, he still relates with us just the way he did as friends from back then. He hasn't changed his relationship with us, albeit some traditional protocols exist he can't breach. It is true that once someone achieves great things in life, he becomes self confident because his morale is boosted. Having confidence in oneself is important but having too much self confidence can ruin a person. A person with immense self confidence thinks too highly of himself and becomes egoistic. He feels that he has achieved all his objectives and looks down on others, this cannot be said about Naa Yakubu Andani Dasana. Everyone who knows him well will attest to this. His humility has rather shaped him so well to keep his feet firmly on the ground to unite the people of Nanung to achieve higher goals, not for him but for the entire Traditional area. In his press statement, he encouraged the youth to work hard to achieve great things and not be drawn to violence and drug abuse. He also called on political leaders to desist from using petty chieftaincy disagreements as a means to gain power.
One cannot, but admire the love he has for his people. May his reign be remembered for development and peace. May Allah guide him through every decision he makes for the good of his people.
Long may you live, your Royal Majesty!
The writer tweets regularly on @SParinjani
Facebook: Sadick Tuglana