Gov't Must Leave Cocoa Pricing To Farmers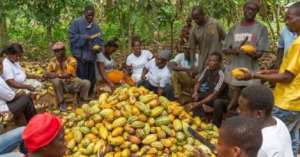 A policy research organisation, Centre For Agro Liberty (CAL), has called on the government to allow cocoa farmers to determine their own price for the cash crop.
In a statement signed by an Executive Director of CAL, Ernest Danso Abiam said it is about time cocoa farmers formed an association and decided on their own cocoa prices for better dividends.
'We need to emancipate cocoa farmers from the long-standing policy of a government-controlled institution that fixes the price for cocoa in Ghana because this gives the farmers no choices of whom to sell to. It is time cocoa farmers priced their own cocoa, formed associations and exported their produce for dividends.'
His comments are coming after the Agric Minister, Dr Akoto Owusu Afriyie, announced that the government will maintain the producer price for cocoa at GHS475 per bag of 64 kilograms.
However, the Minority has accused the Ghana Cocoa Board (COCOBOD) and the Ministry of Agriculture of using a doctored exchange rate of 4.54% to determine the cocoa price instead of using the Bank of Ghana's rate of 4.8%.
Meanwhile, CAL said the government has disappointed cocoa farmers for maintaining the cocoa producer price since 2016.
'The Government of Ghana has disappointed cocoa farmers because they do not understand why the prices of cocoa have been maintained since 2016 to the 2019 season. The government has to allow cocoa farmers to price their own produce, like cashew and any other cash crops. COCOBOD should be the tax regulator instead of it controlling and fixing the purchasing price of the crop.'
In a related development, the Adontenhene of Sienchiem in Asutifi District in the Brong Ahafo region, Nana Kofi Gyasi has threatened to invoke curses on President Nana Addo Dankwa Akufo-Addo and Ghana Cocoa Board for failing to increase cocoa producer price for 2018/2019 crop season.