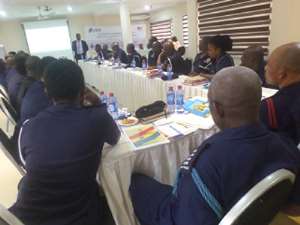 TWENTY-EIGHT (28) police prosecutors drawn from various areas in the Brong Ahafo Region yesterday received training on how to effectively handle criminal prosecution to enhance their work.
The training workshop, which was organized by LADA Institute, a non-governmental organization, with special focus on human rights capacity building, was to enable police prosecutors update their skills on how to effectively prosecute criminal cases in court. According to the experts, it is an area most of the prosecutors lack knowledge.
Explaining the aim of the training, a state attorney with the Attorney Generals Department in the Brong Ahafo Region, Ernest Aryee, who took the trainees through the course, said the prosecution work, especially in criminal cases, is supposed to be done by lawyers on behalf of the Attorney Generals Department, but due to lack of lawyers or the inability of government to hire more lawyers to prosecute, police officers are often engaged to prosecute.
Thus they were taken through criminal law, law of evidence, criminal procedure and courtroom practices which bordered on the 'dos and don'ts' of the courtroom. They also learnt how to lead effective evidence in court, draw a good charge sheet, give good facts about a case and how to handle bail application, among others.
Speaking to DAILY GUIDE after the training, lawyer Ernest Aryee called for more of such training for police prosecutors to update their skills in basic law.
One of the beneficiaries, Chief Superintendent Emmanuel Akonor thanked the organizers for the workshop and described the training as useful and timely saying "it is going to boost our confidence in the courtroom and also enhance our performance". He said there are lots of challenges they face in the courtroom like a judge asking a prosecutor to cite a law so the training is going to help them.
He described prosecution in the police service as a neglected area but thanked the police administration for seeing the need to organize training for them in basic law.